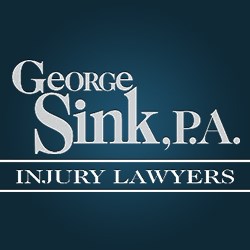 North Charleston, SC (PRWEB) February 20, 2014
Many South Carolinians are unaware of the laws that affect them if they have been injured in a workplace accident or as a result of someone else's carelessness or negligence. The lawyers at George Sink, P.A. Injury Lawyers have launched an extensive new website, created with help from Scorpion Design, Inc. — a legal web marketing company based in Valencia, California. This new site provides tons of information about injury claims and lawsuits relevant to residents of South Carolina.
With sections about personal injury, workers' compensation, and Social Security disability, this site could prove a tremendously helpful resource to state residents. The lawyers at George Sink, P.A. Injury Lawyers serve the entire state of South Carolina, with locations in North Charleston, Walterboro, Moncks Corner, Orangeburg, Columbia, Sumter, Greenville, and Florence. This gives them a unique perspective and the ability to help a wide variety of injury victims across the state.
The personal injury section of the website explains what readers should do if they or someone close to them has been hurt in an accident caused by another person's negligence. Common examples of personal injury claims and cases include car accidents, dangerous drugs, dog bites, defective products, medical malpractice, motorcycle accidents, nursing home abuse, slip and fall accidents, and truck accidents.
The site includes articles about each of these, as well as a wrongful death page about what clients should do if they have lost a loved one in one of these tragic incidents. In addition, the lawyers have a unique section on mass torts involving potentially harmful prescription or over-the-counter drugs such as Tylenol®, Lipitor®, Fosamax®, Januvia®, Yaz®, and more. These articles discuss the harmful effects of these medications and how — if affected negatively by them — a person may have a viable claim.
The sections of the site that discuss workplace injuries explain how workers' compensation laws function in the state of South Carolina, including what temporary total disability is, how impairment rating is determined, how the Workers' Compensation Commission functions, and how to apply for benefits. The site also talks about Social Security disability and Supplemental Security Income for both mental disorders and physical impairments that prevent the victim from working. The lawyers at George Sink, P.A. Injury Lawyers explain how the application process works and what to do if you have been denied benefits.
George Sink, P.A. Injury Lawyers has been serving South Carolinians for more than 35 years. In that time, the lawyers at the firm have helped more than 35,000 men and women throughout the state. The highly regarded law firm is known for tough and effective advocacy and a passion for achieving the best interests of the injury victims they represent. To learn more about George Sink, P.A. Injury Lawyers, call to speak to a legal representative or visit the firm's new site at http://www.sinklaw.com.
About the Author:
George Sink, P.A. Injury Lawyers is known throughout the state of South Carolina as a caring and dedicated law firm committed to fighting for men and women they represent. The lawyers at the firm are deeply familiar with South Carolina state laws regarding workers' compensation, Social Security disability, and personal injury. With law offices throughout the state, booking a free consultation is easy — but to make it even easier, the lawyers at the firm are happy to travel anywhere in the state in order to provide free home or hospital visits to injury victims.