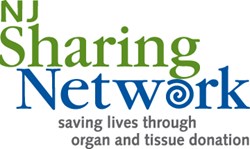 New Providence, NJ (PRWEB) February 22, 2014
NJ Sharing Network, the non-profit organization responsible for the recovery of organs and tissue for nearly 5,000 New Jerseyans awaiting life-saving transplants, today announced that 2013 marked the highest year in tissue recovery in the organization's history.
Last year, many more New Jerseyans benefited through the generous donation of bone, skin and corneas, marking a steady climb in tissue recovery in recent years. Statewide, there were 371 bone donors, 392 skin donors and 756 corneas recovered, resulting in thousands of lives enhanced and physical function restored. Countless other New Jersey residents benefited from other types of donated tissue, including heart valves, tendons to repair major knee injuries, and veins for cardiac bypass surgery.
In contrast, 2012 saw 252 bone donors, 274 skin donors and 667 corneas recovered. To underscore how tissue donation has steadily increased over the years through the work of NJ Sharing Network, the organization marked only 176 bone donors, 71 skin donors and 275 corneas recovered in 2005.
"A key to our success has been constant outreach to the community," said Joseph S. Roth, president & CEO, NJ Sharing Network, based in New Providence. "We have an incredible clinical team that continually meets with physicians and nurses, as well as the community at-large, to highlight the critical importance of organ and tissue donation. We have a strong relationship with the state's Motor Vehicle Commission, as well as events throughout the year that promote our mission."
"We also have to thank each donor who gave selflessly to someone they did not know," added Roth. "Their final act of kindness is one of the greatest gifts one person could ever give to others."
Roth noted specialized training as another contributing factor for the spike in tissue recovery. A clinical grant awarded to EffectiveArts, a research and training company specializing in the field of organ, tissue and eye donation, allowed NJ Sharing Network staff to participate in a year-long program aimed at increasing donation consent rates and family aftercare. "While we are certainly pleased to reach this new milestone in tissue recovery, there is still much work to do," Roth noted. "Eighteen people die each day in the United States waiting for a life-saving transplant. In New Jersey, there are nearly 5,000 residents on the waiting list."
Currently, the number of people on the wait list for life-saving organs in New Jersey include: 64 people for heart transplant; 3,993 people for kidney transplant; 50 people for kidney/pancreas transplant; 511 people for liver transplant; 39 people for lung transplant; and 33 people for pancreas transplant.
One donor can save up to eight lives and restore health to 50 others; a key reason as to why organ and tissue donation is so critical.
"Tissue donation can save and enhance lives in so many ways," Roth said. "Donated corneas can help blind people see again, and donated bone can prevent an amputation for a child with bone cancer. A heart valve can save someone's life, and we also assist with the healing process for a burn victim by recovering donated skin."
Local business owner, Michelle Brugger, is a recipient of donated tissue and one of the many volunteers committed to helping NJ Sharing Network spread the word about the life-enhancing benefits of tissue donation. She received a new tendon eight years ago from a tissue donor.
"When I ruptured my ACL, I wasn't sure if I'd have an athletic future," said Brugger, owner of the Martial Arts for Life karate studio in New Providence. "I needed my ACL reconstructed. After my surgery I was able to do the things I loved to do, like teach karate and compete in road races.Today, I can race in NJ Sharing Network's annual 5K as a result of someone else's generosity. I received the gift of life, the gift of function from a very special person."
To learn more, get involved and register as an organ and tissue donor, visit http://www.NJSharingNetwork.org or call NJ Sharing Network at 1-800-742-7365.
About NJ Sharing Network
NJ Sharing Network is a non-profit, federally designated organization responsible for the recovery and placement of donated organs and tissue for New Jersey residents in need of life-saving transplants. NJ Sharing Network partners with Donate Life America, a not-for-profit national alliance that drives communities to increase their numbers of registered donors. NJ Sharing Network honors those who gave, pays tribute to those who received, offers hope to those who continue to wait, and remembers the lives lost while waiting...for the gift of life.