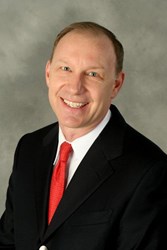 Falls Church, VA (PRWEB) February 20, 2014
This February is Gum Disease Awareness Month, and in honor of this, Dr. William V. Dougherty is raising awareness of the importance of taking gum disease symptoms seriously. It seems that many adults experience these symptoms but few take corrective action, which exposes them to many potential conditions such as heart disease, pancreatic cancer and diabetes. Dr. Dougherty is urging individuals who are experiencing symptoms to schedule a consultation to discuss the many benefits that gum disease treatments such as laser gum surgery may offer.
Many of the adults who are suffering through gum disease symptoms tend to avoid seeking treatment for their gum disease out of the belief that any corrective procedure will be invasive and uncomfortable. Dr. Dougherty, however, is part of the one percent of dental professionals that offer the Laser Assisted New Attachment Procedure, or LANAP®. This laser gum surgery is considered to be minimally invasive and does not utilize many of the techniques that prospective patients may be wary of. Instead, the procedure targets and removes the offending bacteria and the diseased gum tissue, allowing for the reattachment of the healthy gum tissue to the tooth's root surface.
There have been many recent studies that demonstrate a link between gum disease and the incidence of heart disease, pancreatic cancer and diabetes. Given the seriousness of these conditions, individuals who are exhibiting gum disease symptoms should explore the options that are available. For his part, Dr. Dougherty sees LANAP® as a viable option for patients who are looking for a procedure that reduces pain, gum line recession and sensitivity while also limiting the possibility of the other serious conditions that may arise as a result of gum disease.
LANAP® is an FDA-cleared laser protocol and only a small percentage of doctors are certified in its use. Interested parties should contact the office of Dr. Dougherty for a consultation regarding the benefits that LANAP® can yield.
About the Doctor
William V. Dougherty, III, DDS is a general dentist offering patients personalized dental care in Falls Church, VA. He is part of one percent of dental professionals providing the LANAP® FDA cleared laser procedure for gum disease and periodontal treatment. To learn more about William V. Dougherty, III, DDS and his dental services visit his website at http://www.doughertylaserdentistry.com and call (703) 584-7554.