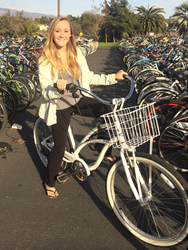 Santa Monica, CA (PRWEB) February 24, 2014
Spinlister, the peer-to-peer bicycle, ski, and snowboard rental platform, announced today that they have hired Kelsey Stowe as their Student Brand Manager at University of California, Santa Barbara. Stowe, a freshman who only recently learned how to ride a bike, is excited to be the face of Spinlister on UCSB's campus.
Kelsey is a Mechanical Engineering major at UCSB but still manages to find time to be involved in the Ski and Snowboard Team, the Excursion Club, and the Surf Club. Kelsey's Ski and Snowboard team makes the trip up to Mammoth Mountain almost every weekend and her goal, by senior year, is to be part of the small team that makes it to Nationals. Kelsey has always loved skiing and snowboarding but only recently found a passion for biking when she started school at UCSB. "I grew up in Washington DC so I never learned to ride a bicycle as a kid. I learned how to ride a bike my first day of college. I had to learn because it really is the only way students get around. I was known as the only girl that didn't know how to ride one, but I made lots of friends who taught me how. Now I can't even imagine getting around by foot!" says Stowe.
Now that Kelsey is a pro at biking, she's excited to spread the word about Spinlister to her classmates. "I wanted to become a Spinlister SBM because I love the app and the idea of being able to make money off my own ride, along with others around campus being able to rent them. On top of that, I love snowboarding and know the importance of riding a real board that fits ones own style versus riding the boards you rent at lodges. This job gives me an opportunity to make a presence and positive impact on the UCSB campus and I couldn't be more excited!" says Stowe
Spinlister is still searching for qualified and passionate students, similar to Kelsey, to join their Student Brand Manager team. Interested students should send their resume and cover letter to Director of Community Relations, Scott Gates at scott.spinlister.com. For more information, please visit the job description page.