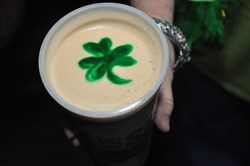 Starting March 1, the social order in Austin shifts towards a singular purpose: celebrating all things Irish
Austin, Texas (PRWEB) February 20, 2014
Every aspect of the St. Patrick's Day festivities at Fado Irish Pub, which last all month-long, are focused on providing an over-the-top - yet authentic - Irish experience. European sports are featured, including 6 Nations Rugby, English Premier League, as well as traditional Irish food and live music, Pub Quiz, fundraisers and more!
Starting March 1, the social order in Austin shifts towards a singular purpose: celebrating all things Irish. This means wearing green, eating traditional Irish food, connecting with community through charity, and, of course, drinking Guinness and fantastic Irish whiskey. After 17 years of throwing the biggest Paddy's Day event, Fado Irish Pub in continues its tradition of delivering revelers Austin's definitive 2014 Paddy's Day celebration. "Party like a Paddy" never sounded more right!
Fadó, the best St Patrick's Day party in Austin, is a St Patrick's Day institution and the staff and management at the pub invite you to buy your tickets in advance and "commit yourself."
Here's what to expect during Austin's most anticipated St. Paddy's celebration at Fadó in the Warehouse District:

Month of Madness Kick-off Party, Saturday, March 1 at 8 p.m. - A Guinness glass etching event to celebrate the start of the Month of Madness! And, with a small $5 donation, receive a free Guinness etched Pint glass. Live Music starts at 9 p.m. with "After Party." St Baldrick's Foundation will be accepting donations all night and signing up new "shavees". Learn more how you can help end kids cancer at http://www.stbaldricks.org.
Super Paddy's Day Pub Quiz with $1000 cash jackpot prize, Tuesday, March 11 at 8 p.m. - The Super Pub Quiz is the night of a 3 week-long Tournament. The more you play, the more points you earn and greater your chances are to win the Grand Prize! Newcastle, Heineken, Dos Equis & specials all night. Free to play and new teams are welcome.
ReThink Pop Showcase - Patio Takeover, Thursday, March 13 from noon to midnight. - A special SXSW Music Event. No cover.
Friday night live music with Hair of the Dog at 9:30pm. No cover.
Super Saturday, March 15 - Doors open early on "St Practice" day with European Sports, including 6 Nations Rugby and English Premier League. Full brunch and regular menu available. Live music starting at 9pm with Austin City Dolls and no cover.
Trad Sunday, March 16 - Doors open early with European sports, featuring Liverpool v Manchester United 8:30 a.m. Brunch menu available until 3 p.m. and full menu, including Traditional Irish food, available all day. Traditional Irish Music with Sean Orr from noon until 3 p.m. and Hard Days Night from 4 p.m. until 9 p.m. No cover.
St Patricks Day, Monday, March 17 - Doors open at 6 a.m. Our 4th annual "Kegs and Eggs" Live Radio broadcast with Jason and Deb of 101x is from 8 a.m. until 10 a.m. with the usual shenanigans and giveaways on tap! Street opens at 2 p.m. with performances from Irish Dancers and Silver Thistle Bag Pipers. Live music across two stages from 10 a.m. until midnight and include Tea Merchants, Hair of the Dog, Sunday in Leith, Wow U2 and, the ultimate Stout Irish rock band, Blaggards.
$10 Advance Tickets on sale now.
$15 on the door. Cover starts at 10am. 21+ after 4pm.
Additional Info: Fado Irish Pub, located on 4th Street in the Warehouse District, is in the heart of all the SXSW action for festival goers and has remained a fantastic venue option for SXSW event organizers. Fado is a great SXSW Music Festival and SXSW Interactive event venue for small groups, full pub buyouts as well as being a great after-party destination spot. Please contact Sarah Brown, events manager at Fado.
About Fadó Irish Pub
Fadó (pronounced fuh-doe) Irish Pub was the first Irish pub to be designed and constructed in Ireland and shipped and installed in Austin. Fadó is distinguished by its genuine Irish hospitality, quality of its pints and craic (pronounced 'crack', a uniquely Irish form of fun). Fadó has been voted 'Best Of' by a number of local and national publications. Fadó is an official US Soccer bar. Get more information by visiting the pub's website page, Facebook page or by following @fadoaustin on Twitter and following the hashtag #stpatricksday2014