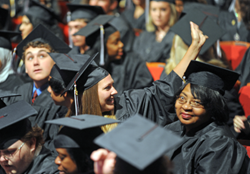 Our role here at Knowledge Transfer is to ask questions, deliver original content, propose solutions, criticize policies, and cover events …. basically anything that sparks discussion on and ideas about college transfer.
Peachtree Corners, GA (PRWEB) February 21, 2014
Ashworth College, a leading online school, has launched the Knowledge Transfer blog. The new blog provides higher education leaders and others a place to learn about, discuss, and share information on college transfer.
For example, one of the latest posts on Knowledge Transfer is "Improving community college transfer to four-year institutions." Written by Greg Jarboe, the President of SEO-PR, and Robin R. LaSota, a Post-doctoral Research Associate in the Office of Community College Research and Leadership (OCCRL) at the University of Illinois at Urbana-Champaign (UIUC), the post reports on the original research that Dr. LaSota presented during a session at last week's conference of the National Institute for the Study of Transfer Students (NISTS).
Other posts on the Knowledge Transfer blog are entitled, "The rising cost of not solving the US college transfer problem", "Q&A with the President's education advisor, Roberto Rodriguez", and "Marketing and academic partnerships are powerful tools for change".
Knowledge Transfer was developed and funded by Ashworth College to step forward into the higher education community in the US and get involved in contributing to solving the college transfer problem. This effort is directly connected to Ashworth's initiative to build a National Transfer Network of schools with whom the College is building articulation agreements so that students that complete associate's degrees with Ashworth can easily transfer credits into other institutions to complete a Bachelor's Degree.
Sean O'Brien, the Director of Strategic Partnerships at Ashworth College, said, "Over 1,500 students graduate debt free with an Associate's Degree from Ashworth College every year. Thousands more enroll in affordable, flexible programs to better themselves and their future by pursuing their first degree. Ashworth College's National Transfer Network provides a pathway for these students to contribute to the communities and growth of our 4-year partners on their way to a bachelor's degree."
The College Transfer Problem
O'Brien explained, "Our Higher Education system was never built to facilitate the kind of student transfer that we are seeing now. With over one million students transferring between institutions every year and as many as 60% of students switching institutions before attaining a degree, the need to collaborate and share knowledge to solve the college transfer problem has never been greater. Students are questioning the value of a college degree at the same time that fewer and fewer traditional students are reaching college age. Student debt is a focal point for students everywhere and our country in particular. With College Attainment rates in the US below 40% and job data demanding attainment above 65%, it is even more important that we work together to learn about, discuss, and share information on college transfer."
What is Knowledge Transfer's role?
He continued, "Our role here at Knowledge Transfer is to ask questions, deliver original content, propose solutions, criticize policies, and cover events …. basically anything that sparks discussion on and ideas about college transfer. To do this, we will be engaging leaders from academia, business, and government, prodding them to apply their minds to the college transfer problem and publishing the results. We fully expect our efforts to be valuable to our audience and shed light on how college transfer impacts your institution or the Higher Education system as a whole."
What are Knowledge Transfer's objectives?
O'Brien added, "Our real success though will be measured by how much higher education leaders participate. Taking what they find on Knowledge Transfer and applying it at their institution qualifies. We hope that happens. To contribute to knowledge transfer though, they will need to do something else with it too: Read it, share it, question it, criticize it, and maybe even dismiss it! If they have an idea or an opinion, we hope they will contribute it. The college transfer problem can be alleviated and possibly even eliminated by dedicated professionals that take the time to find and follow a site like Knowledge Transfer as a dedicated stakeholder of their institution."
He concluded, "We've already mentioned the over one million students that will transfer next year. There are students enrolled in almost every institution in the country trying to find a path to a different school that they truly belong in. They need support to do that. They also need support once they get where they are going as we all know. The way that a school approaches supporting enrolled and prospective transfer students is indicative of how they do business. Progressive schools that can solve this problem for their students will attract more students, provide better outcomes for them, and grow. Getting involved in the problem and learning about it will help them reach their goals."
About Ashworth College
Celebrating 25 years of Educating Minds and Changing Lives, leading online school Ashworth College has built a tradition of excellence by offering students worldwide an extensive range of online college degrees, online certificate programs, career training and online high school diploma options that are affordable and fit the busy schedules of working adults. Headquartered in Peachtree Corners, GA. Ashworth is accredited by the Distance Education and Training Council (DETC). The Accrediting Commission of the DETC is listed by the U.S. Department of Education as a nationally recognized accrediting agency. For more information, visit http://www.ashworthcollege.edu.
Ashworth is a Sterling Partners portfolio company. Sterling, a private equity firm with a 25-year history of generating superior returns invests in industries with positive, long-term trends and provides ongoing support with a diverse and balanced team of industry veterans, operators, investors, strategy experts, and human capital professionals. For more information, please visit http://www.sterlingpartners.com.