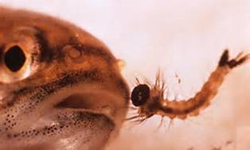 "One of the ways many communities have controlled the mosquito population without the ever invasive pesticides and aerial spraying barrages is to stop the mosquito at the source with the Eastern Mosquito Fish
(PRWEB) February 24, 2014
Florida Pond Management, an organization involved in the health of ponds and lakes in Florida to Louisiana, announces a non-chemical approach to Mosquito control. Tait Carson, the company's founder explained, " Dr. Thomas R. Reich PhD is an Ichthyologist noted for his work in aquariums and ornamental ponds around the world, he developed a way to control the mosquito larva before they even become mosquitoes, right in the ponds and lakes the way nature engineered it!"
"Florida has literally thousands of ponds and lakes, and the territory once had one of the nation's worst mosquito population problems," Reich explained, "One of the ways many communities have controlled the mosquito population without the ever invasive pesticides and aerial spraying barrages is to stop the mosquito at the source."
By introducing native Florida fish that are specialized in eating mosquito larva the problem is greatly reduced. One of the quickest fixes is the common guppy, known as the millions fish since a single pair can reproduce in the millions in a very short amount of time (given the food and space), and eat their weight in mosquito larva every day, the larva can be eliminated before they grow into mosquitoes.
"However the Guppy is not a cold hardy fish, and dies off each winter, leaving the ponds and lakes at the mercy of the ever fruitful mosquito each spring." Reich cautioned. "But certain fish are Florida natives that are also cold hardy, or fish that are ideally suited for our weather pattern of extremely hot summers and cold but short winters."
The most popular of the mosquito eaters is the Eastern Mosquitofish. The eat mosquito larva like their distant relative the guppy, but are cold hearty. "Several hundred or even several thousands in a medium sized lake will become millions in no time, and eat their weight in mosquito larva each day!" Dr. Thomas R. Reich remarked.
"During the Yellow fever epidemic of the past, Guppy's and mosquito fish would be thrown into ditches to control the deadly disease which was carried by, what else, the mosquito," Reich added.
"Many lakes have multitudes of these tiny silver gray fish on the edges of the shoreline, usually in reeds, weeds, or muck to avoid larger fish. Newer ponds developed recently will not have natures answer to the mosquito problem, and that's where Florida Pond Management can help," said Tait Carson.
Another advantage of the tiny non-invasive Eastern Mosquitofish is the food chain. Since they breed so quickly, they become a favorite snack of pan fish and game fish. "Fishing is my sport, controlling mosquitoes and feeding sport fish sold me on Dr. Reich's suggestion, and we are seeing a lot of potential here in Central and Northern Florida," Carson concluded.
There are few draw backs to this natural method of mosquito control and the Eastern Mosquitofish is a totally natural approach to this stinging problem offered by Florida Pond Management.