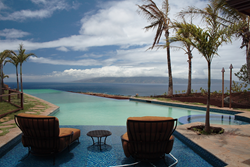 Maui, HI (PRWEB) February 25, 2014
Brown Development and BD Properties Hawaii is now offering pre-construction deals on luxury homes for sale in Maui's most exclusive neighborhoods. With two homes slated for completion in April and July, and other homes in various stages of construction, special discounts are offered through May 2014. Pre-construction purchases allow for discounted pricing and the opportunity to customize your own luxury home. Brown Development homes feature elegant finishes such as African mahogany wood trim, imperial plaster, travertine flooring, granite countertops and high-end appliances.
Recently celebrating their 10th anniversary, Brown Development and BD Properties Hawaii have enjoyed over $100 million in luxury home sales on the islands of Maui and Lana'i.
Their opulent designs weave a tapestry of Polynesian culture with a luxuriously rustic and European French chateau style, gracing the exclusive Maui hillside communities of Launiupoko and Ka'anapali Coffee Farms. Overlooking the Pacific Ocean and the islands of Lana'i and Moloka'i with panoramic ocean views, pool cabanas, indoor/outdoor living spaces, and lush landscaping on secluded, spacious lots ranging from approximately 1 to 3 acres, Brown Development homes have become the choice for celebrities and high-profile discerning buyers who are looking for island homes that match their level of luxury and exclusivity.
In December 2013, new homeowners Dean and Becky Leffingwell wrote "I remember reading on their website that Brown's goal is to "consistently exceed customer expectations". At the time I thought that would be pretty difficult, because we have pretty high expectations! But exceed them they did and we couldn't be happier with the result."
Full construction details including site maps, floor plans and images, as well as complete information on Maui luxury homes that are move-in ready, can be viewed on their website http://www.BDHawaii.com.
About Brown Development and BD Properties Hawaii
Brown Development and BD Properties Hawaii offer both pre-construction and brand new, fully-completed luxury homes for sale in Maui with landscaping, pools and elegant finishes ranging in price from 1.5 to 4 million dollars.
Brown Development was founded in 2003, the vision of builder, designer, finance and real estate expert Greg Brown. Brown Development (Licensed Contractor) and BD Properties Hawaii (Licensed Real Estate Brokerage) are now recognized as leaders in the luxury home industry on Maui.
With a commitment to maintaining high standards in business dealings, and meticulous attention to detail in state-of-the-art building methods and home sales, Greg Brown has earned a solid reputation as a trusted contractor and real estate broker of Hawaii luxury homes on the islands of Maui and Lana'i.
Greg Brown is an active, licensed real estate broker in the state of Hawaii.