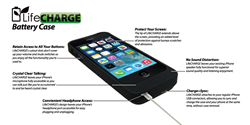 Dallas, TX (PRWEB) February 21, 2014
Parents of toddlers who are finding their iPhone tapped out more often than usual may want to take a look at their photo history. The selfie craze has funneled its way down to even two- and three-year-olds, tapping out iPhone batteries in the process. The new iPhone battery case from LifeCHARGE allows toddlers to snap photographs to their hearts' content and maintain their iPhone power too.
Late last month, the Associated Press (http://www.today.com/tech/toddlers-love-selfies-parenting-iphone-age-2D12008804) reported about a new and surprising iPhone trend. As it turns out, "Toddlers love selfies." The article goes on to point out, "But toddlers aren't the only ones taking photos nonstop. It's not unusual for doting parents to snap thousands of digital photos by the time their child is 2."
All of this picture taking can be a real drain on an iPhone battery, but that doesn't mean parents have to stunt their little ones' creativity or miss out on a precious moment. With a LifeCHARGE battery case for iPhone 5 or 4, both young and old can take snapshots to their heart's content.
For more information on how a LifeCHARGE battery case can encourage creativity development in toddlers, contact OnTrion's Palki Kochar. To learn more about the LifeCHARGE battery case for iPhone 5 and 4, visit the manufacturer on the web at http://www.mylifecharge.com.
###
CONTACT INFORMATION:
lifeCHARGE
13650, TI Blvd., Suite #309
Dallas, TX 75243
(877)676-0877