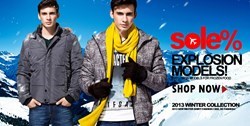 (PRWEB) February 21, 2014
Recently, Skmen.com, a well-known clothing manufacturer, has unveiled its new collection of fashionable men's suits. What's more, the company launched a special offer on these quality products; all of them are available at greatly discounted prices now, up to 35% off.
The discounted men's suits offered by Skmen.com also come with low shipping fees. At the moment, most of them are priced as low as below $50. Their trendy looks can make the wearers more handsome. The superior quality makes them extremely soft and comfortable.
The CEO of the company states, "We are happy to announce our new suit selection. Our top experts never sacrifice efficiency or quality for style. All our newly released items are made from grade-A materials; they can be washed again and again even in a washing machine. In the coming months, we will create more hot items for worldwide customers. Please note that the special offer will be valid until March 10, 2014. If you are interested in our cheap men's suits, please visit our online shop as soon as possible."
Skmen.com has been specializing in women's fashion apparels and men's fashionable clothes for a long time. The company has gained a strong success because of its quality products. Its aim is to make all customers look nice without having to spend too much.
About Skmen.com
Skmen.com, a China-based company founded in 2009, is one of the leading suppliers of men's and women's high quality clothes. It has more than 5000 customers from every part of the world; it hopes to help worldwide stylish ladies and gentlemen. For more detailed information about the company and its wonderful items, readers can visit http://www.skmen.com/product-men-s-suits-009009.aspx.