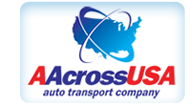 A Across USA Now Offering Affordable Car Shipping and Auto Transport Services in All 50-States
(PRWEB) February 24, 2014
A Across USA has announced that they are now shipping automobiles to all 50 states. For over 20 years, A Across USA has been the foremost option for auto transportation in the United States. With the goal always being complete customer satisfaction, the dedicated auto transport team works diligently to provide the most efficient, safe, timely, and reliable service to each consumer. Thousands of satisfied customers can attest that when planning a cross country move, or needing a car transported a few states – there is no better option than A Across USA. Providing all customers with absolute peace of mind, A Across USA also offers the most affordable prices available.
For auto transport services in California, South Florida, Pennsylvania – or in any of the 50 states, look no further than A Across USA. The company has been meeting the auto transport needs for individuals, companies, military, auto dealers, moving companies, leasing companies, and government agencies since 1991. With more than 1,000 pre-checked and pre-screened car carriers in every single state, A Across USA takes the stress, worry, and anxiety out of auto transportation. The family owned and operated auto transport organization is well-versed in everything that goes into shipping a car and auto shipping. A Across USA has an A+ rating with the Better Business Bureau, providing a service that is cost-effective and trustworthy. When relocating to a new town, traveling for work, or across the country – car shipping has to be seamless. A Across USA understands how important it is to have a car when relocating to a new city or town. The team works hard and has hundreds of testimonials from countless happy customers, proving that they are the best company to handle any vehicle move. A Across the USA is bonded and insured to provide all clients absolute security.
To learn more, log on to: http://www.AAcrossUSA.com.