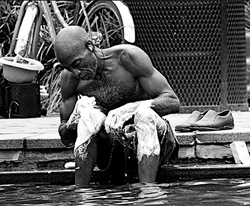 "In America, the ability to shower is a basic staple of human dignity." David Mason, CEO of CabinetHardware.org
San Francisco, CA (PRWEB) February 21, 2014
Earlier today CabinetHardware.org issued its first grant for the "Shower Love Upon the Homeless" campaign that it's running to support the work of Lava Mae. Lava Mae, a social activism group based in San Francisco, plans to put buses on the road with showers and toilets for the city's homeless to be able to access a rare shower. Earlier this month they began retrofitting their first bus. The organization turned to CabinetHardware.org founder David Mason, for help with fundraising for the project.
Mason, who ran a clinic providing legal services to the homeless while a student at NYU Law School, is contributing his company's resources to help fund the Lava Mae project in San Francisco. Mason has put a first-of-its-kind program in place wherein in his CabinetHardware.org customers can voluntarily designate 10 percent of their purchases toward any one of the relief projects featured on the company's website.
"We sell shower products in our home hardware section of the website, so the opportunity to support 'Shower Love Upon the Homeless of San Francisco' was a natural for us," Mason says. "Taking on this wonderful project is a great opportunity for us to give back to the community."
According to Lava Mae founder Doniece Sandoval, 6,500 homeless individuals live in San Francisco, 3,100 of whom live directly on the street. With only 16 showers available to service the city's entire homeless population, Sandoval created LavaMae.org to put mobile showers on local roadways for optimum accessibility.
"The support from organizations like CabinetHardware.org and others worldwide is helping to propel Lava Mae toward its goal to put mobile showers and toilets on San Francisco streets for the homeless," says Sandoval. "We are incredibly grateful for their vision and commitment to make a difference by supporting our work."
Mason believes the Lava Mae project is about offering homeless individuals a measure of dignity that everyone deserves: the opportunity to shower.
"Showers are something that most of us take for granted," says Mason. "Too often we turn away from the smell or the lack of hygiene that goes with being homeless, we forget in the moment that these are people who want to be clean, who want to be healthy and feel welcome in society, but don't have proper access to showers."
To learn more about the Lava Mae "Shower Love Upon the Homeless of San Francisco" project and vote to add it to the Cabinet Hardware Relief Efforts website, visit the Relief Efforts page of the CabinetHardware.org website.
About CabinetHardware.org:
http://www.CabinetHardware.org is a combination e-commerce site and crowdfunding platform founded in 2013 by entrepreneur David Mason. Ten percent of every dollar spent on the site is donated to relief efforts to help needy families rebuild their homes after a disaster, and others in crisis. Anyone with a qualifying project representative of a charitable cause can apply for one of the company's relief grants through its charitable arm, the FlowOver project, a Certified B Corp. CabinetHardware.org visitors and customers vote for those grant applications they would like to see funded. No donation is necessary to vote or to purchase products. Customers who do earmark a portion of their purchase price to a cause absorb no cost for the their donation. CabinetHardware.org transfers 10 percent of each sale to deserving causes.