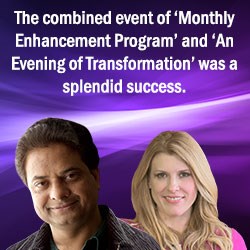 Las Vegas, Nevada (PRWEB) February 21, 2014
In a rare event, on February 20, 2014 at 9PM ET, two programs of Trivedi Master Wellness™, the Monthly Enhancement Program and An Evening of Transformation were organized jointly and proved to be a huge success. The participants of this live webcast received a very powerful Energy Transmission from Mahendra Trivedi and Trivedi Master™ - Alice Branton.
At the special two-hour live webcast, people listened to a very informative discourse from Mahendra Trivedi, where he discussed various impacts of a low level and a higher level of consciousness in a person's life and importance of a good quality of sleep in relation to productivity, focus and overall heath. He also described how people can make their lives better by raising the level of their consciousness. Participants also got the chance to interact with him and Alice Branton, ask questions and express their experiences.
Mahendra Trivedi is gifted with a unique ability to transmit a life transforming Universal Energy to living beings as well as non-living objects. The Energy transmitted by him has yielded astounding results. People have reported to feel immense positivity, increased level of confidence and inner peace, after receiving the Energy Transmission from him. The amazing effect of this energy is known as The Trivedi Effect®. Apart from Mahendra Trivedi, the Trivedi Masters™ Dahryn Trivedi, Gopal Nayak and Alice Branton also possess the ability of Energy Transmission.
Till now more than 200,000 people have experienced the Energy Transmissions from Mahendra Trivedi and many of them have reported transformational benefits in all areas of their lives, including physical, mental, emotional, sexual, spiritual, and financial wellness and a vast improvement in relationships.
The Trivedi Effect® has been monitored and investigated by scientists from a range of different academic fields across the world. A common outcome of these experiments demonstrates that the energy alters how materials or organisms perform, enhancing their performance to an optimum level. Some of the results of these experiments have been documented and discussed in many publications in a number of notable international, peer-reviewed, scientific journals.
In order to administer this wonderful Energy Transmission to maximum people from all over the world, Trivedi Master Wellness™ organizes various programs and events, where people can receive the energy online, as well as in-person, so that they can start experiencing the beneficial impact of The Trivedi Effect®.
About Trivedi Master Wellness™: Mahendra Trivedi has the unique ability to create The Trivedi Effect® and has the scientific evidence to prove it. This phenomenon of Energy Transmission has been tested in over 4,000 experiments conducted using stringent methodologies and the most advanced technologies available on this planet. Many results have been published in leading international, peer-reviewed, scientific journals. Each experiment shows significant transformation with consistent results. The resulting changes show that this energy has the amazing ability to improve the functionality and potential of an individual. Trivedi Master Wellness™ established in 2011 is intended to provide the benefits of The Trivedi Effect® to optimize human potential throughout the world.
Websites: http://www.trivedimasterwellness.com/, http://www.trivedieffect.com/
Call us on: +1-877-493-4092
For inquiries please mail us at: cs(at)trivedieffect(dot)com.