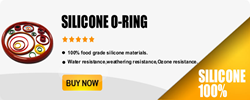 (PRWEB) February 21, 2014
With engineering expertise and advanced technology, TOGOHK.com is well-known company for solving tough sealing problems associated with special designs. Recently, the company has introduced its new silicone O-rings/silicone seals, and announced custom designs are available.
TOGOHK.com is a professional manufacturer and wholesaler of silicone molds, Viton O-rings, and other silicone products. The new silicone O-rings/silicone seals are specially made for its international customers. These products are all made of top grade silicone, coming with modern manufacturing processes. Moreover, any order of silicone O-rings/silicone seals comes with great discounts, and the special offer is valid until Mar. 15, 2014.
"Our engineers have a wide range of experience and knowledge in O-rings/silicone seals, and they have been solving problems for countless industries. We have the capability to deliver the sealing solution you need," the CEO of the company states. "Custom designs or OEM orders are welcomed here, and we offer one-stop silicone products to meet different needs of clients worldwide."
TOGOHK.com pays much attention to the quality of every product, and its manufacturing capability in custom silicone O-rings/silicone seals is unsurpassed. The company knows the best way to ensure problems are spotted before they become serious issues. They hoped to create a site where the global customers can find products that would keep their machines working efficiently.
About TOGOHK.com
Founded in 2003, TOGOHK is the leading company of silicone products; the company has developed into a modern enterprise that offers its customers worldwide a one-stop silicone product solution from conception to delivery. With high technology engineering and advanced CAD and CAM, the company has been serving more than 3000 customers from over 70 countries.
For more information about the business, please visit their website at: http://www.togohk.com/?gallery=silicone-o-ring.