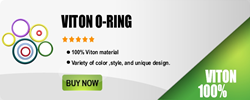 (PRWEB) February 22, 2014
TOGOHK.com is a professional company offering various silicone molds, and it has helped thousands of businesses buy premium Viton O-rings or Viton seals at low prices. Today, the business announces a special offer for 2014, and all its products are offered at discounted prices. Based on a sales manager of the company, the special offer is expected to be made available by the end of Q1/2014.
Many customers have selected TOGOHK.com as a business partner from a highly competitive O-ring field, because TOGOHK is a renowned company of silicone molds, offering top quality products and dedicated services to its clients worldwide. The products from this company can always meet and exceed the expectations of various clients.
The CEO of the company states, "We are very happy to introduce our new designs to our clients worldwide. Many customers like Viton O-rings very much. We believe that every client can benefit from our special offer. We can provide the best product solution within the buyer's budget."
It's pleasing that the company is investing much emphasis on its global operational and support capabilities. Its good relationship with many business partners will open up additional channels and help it develop better in new markets.
About TOGOHK.com
Founded in 2003, TOGOHK has developed into a modern enterprise that offers its clients worldwide a one-stop silicone product solution from conception to delivery. With high technology engineering and advanced CAD and CAM, the company has been serving more than 3000 customers from over 70 countries. Thanks to the innovative designs and 24/7 customer service, the company has become a leader in the industry.
For more information about the business, please visit their website at: http://www.togohk.com/viton-o-rings-size-chart/.