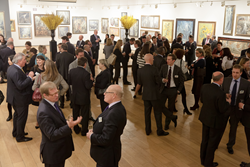 London (PRWEB UK) 24 February 2014
On 4 February 2014, during gale force storms and travel chaos due to a London Underground strike, PAM Insight held a successful champagne reception for senior executives of leading private client law and accountancy firms and trust, financial advisory and property advisory companies, with the assistance of Wendy Marston Events.
Eprivateclient's Top 25 Most Admired Companies initiative is designed to identify, recognise and promote the leading firms and companies of the private client professions:

Law Firms
Accountancy Firms
Trust Companies
Financial Planners
Residential Property Companies
The champagne reception, held at Mall Galleries in London, included guests from the leading UK and UK offshore private client firms, such as Penningtons Manches, Deloitte and KPMG.
Wendy Marston Events assisted PAM Insight in organising the reception focusing on:

Creating and managing the guest list;
Organising the supplier relationships and media production; and
Corresponding regularly with attendees and sponsors.
Wendy Marston Events is a specialist event planner, focusing on the organisation of awards programmes and their associated receptions, dinners and meetings, from small roundtable breakfast meetings to gala award dinners. Wendy Marston, founder and director, has been managing the PAM Awards for PAM Insight, the company behind Private Client Practitioner, for over 10 years, and in 2012 has took over the organisation of their remaining suite of awards and events.
Companies interested in improving the return on their events and awards programmes can contact Wendy Marston at Wendy Marston Events at http://www.wendymarstonevents.com.
About Wendy Marston Events:
Wendy has been running events for business since 2001 and weddings and private events since 2008. Wendy Marston Events specialises in running award programmes, receptions, dinners and meetings, from small roundtable breakfast meetings to gala award dinners.
For further information contact Wendy Marston
Email: wendy(at)wendymarstonevents(dot)com
Web: http://www.wendymarstonevents.com
Phone: +44 (0)7971 203725