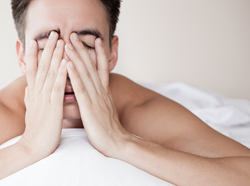 Sleep loss and other factors can influence the amount of melatonin...health problems associated with low melatonin...are broad, including a potential risk factor for cancer.
London (PRWEB UK) 25 February 2014
When the body is allowed to follow the inherent circadian rhythm over a 24-hour period, there is a natural cycle of hormone production, with some hormones being produced exclusively during the dark night period and others being released primarily during the daylight periods of the sleep/wake pattern.
One of the hormones biologically produced during the night when the body is in a state of deep sleep is melatonin. Many biological processes are regulated by this hormone, including the immune system and cancer development, particularly the breast and prostate cancers.
In a study presented at the AACR-Prostate Cancer Foundation Conference on Advances in Prostate Cancer Research, held Jan. 18-21, it was suggested that due to the influence of melatonin on prostate cancer development, a greater effort needs to be put into targeting chronic disrupted sleep conditions in men.
According to results it was found that men who had higher levels of melatonin reduced the risk for developing advanced prostate cancer by 75 percent when compared with men who had lower levels of melatonin (http://bit.ly/1gkZVgE).
Sarah C. Markt, M.P.H., a doctoral candidate in the Department of Epidemiology and her colleagues at the Harvard School of Public Health in Boston, conducted this case-cohort study on 928 male Icelandic volunteers from the AGES-Reykjavik cohort between 2002 and 2009.
They not only analysed urine samples of the subjects for a marker which linked to levels of melatonin over these seven years, but they also inquired about supporting details such as sleep patterns and the quality of their sleep cycles (http://bit.ly/1albZyw).
During this study period 111 of the men were diagnosed with prostate cancer, with a total of 24 receiving a diagnosis of advanced cancer that could be fatal. Each volunteer who developed cancer ranked below the medial levels of melatonin secretion in their urine and typically suffered from disruptive sleep patterns during the night. The samples were taken from early morning and evening cycles to achieve as wide a sample range as possible.
The researchers found that one in seven men reported problems falling asleep, one in five men reported problems staying asleep, and almost one in three reported taking sleeping medications. On the other hand, men whose 6-sulfatoxymelatonin levels were higher than the median value had a 75 percent decreased risk for advanced prostate cancer. These levels were taken from men who claimed to sleep soundly throughout the night. An additional 31 percent decreased risk for prostate cancer overall was observed as well, but this finding was not statistically significant (http://bit.ly/19JbsrT).
According to Superintendant Pharmacist Omar El-Gohary at ChemistDirect, "There is a range of things you can do to help you get to sleep, such as:

Avoiding caffeine later in the day
Avoiding heavy meals late at night
Setting regular times to wake up
Using thick curtains or blinds, an eye mask and earplugs to stop you being woken up by light and noise http://bit.ly/1hNV3Gd
If these steps do not help, visit your doctor for further advice".