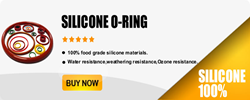 (PRWEB) February 23, 2014
Every year there are many new consumers who find their appliances for work, home and play at TOGOHK.com, a leading company providing high quality and affordable silicone products. Recently, the company has proudly announced its new food grade silicone O-rings for the international market.
TOGOHK.com is composed of crafts people with exceptional techniques. The company promises to offer superior customer service for all customers worldwide. With the state-of-the-art comfort technologies, the company has been a leader in the industry.
Based on the spokesman for TOGOHK.com, current food grade silicone O-rings are for the European marketplace and the services and products from the company are considered as promising by many industrial insiders.
Food grade silicone products can be found in many applications and industries worldwide. TOGOHK.com has vast experience in designing and manufacturing silicone products based on customers' requirements. In addition, big discounts, up to 29% off, are provided by the company on all its food grade silicone O-rings, and the special offer is valid until Mar. 12, 2014.
A customer of the company says, "I really enjoyed using the silicone products from this company. They offer innovative product solutions while remaining budget conscious. We are surprised at how fast they deliver high quality silicone O-rings."
About TOGOHK.com
Founded in 2003, TOGOHK has developed into a modern enterprise that offers its clients worldwide a one-stop silicone product solution from conception to delivery. With high technology engineering and advanced CAD and CAM, the company has been serving more than 3000 customers from over 70 countries. Thanks to the innovative designs and 24/7 customer service, the company has become a leader in the industry.
For more information about the business, please visit their website at: http://www.togohk.com/?gallery=silicone-o-ring