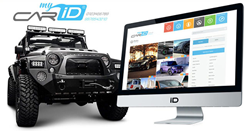 Cranbury, NJ, (PRWEB) February 23, 2014
CARiD.com, a leading e-retailer of auto parts, announced the launch of myCARiD, a new social project for car enthusiasts. The website enables car owners to create customizable profiles of their vehicles, connect with each other, and browse the most interesting content related to all things automotive. myCARiD is available for free registration at http://my.carid.com/.
For people who take pride in their vehicles, myCARiD offers an attractive virtual platform to showcase their auto. Responsive, image-focused website design provides an excellent viewing experience across desktop, tablet, and mobile devices.
With a frequently updated collection of high-quality car photos and growing database of member rides, myCARiD provides the way for car owners to get the design inspiration, project tips and product information they need to turn ideas into reality.
Among the social tools myCARiD builds upon is the ability to rate content using the Boost button, follow users and rides, as well as post to the popular social networks using social sharing buttons.
myCARiD is a multi-purpose platform that connects car owners and different automotive brands. Companies can increase their exposure by claiming their profile on myCARiD and put their work in front of the growing community of car enthusiasts.
Benefits of using myCARiD:
Showoff platform
Members can display their vehicles among the greatest custom car projects in the country and the world.
Inspiration database
Users can browse the constantly growing database of members' rides and car photos. The results can be filtered by vehicle make, model, and year so that the users could find ideas for their specific projects or just view the most interesting posts about the cars they like.
Community of like-minded people
myCARiD enables users to discover interesting people and projects, message professionals with questions about their work, read fellow owners' Ride Journals to learn more about inspirational ideas and cases.
Increased exposure
While customizing their vehicles, millions of car owners are looking for inspiration and professional help to bring their ideas into reality. By claiming their myCARiD profile, custom body shops, tuning companies, and aftermarket manufacturers can put their work in front of the community.
Brand building
Owners of small automotive companies and startups can take advantage of myCARiD's visual platform to display their work and demonstrate their expertise to the community.
Last but not least, myCARiD is free of ads and all the real life drama - this website is truly about cars and people who love them.
About CARiD:
Founded in NYC in 2003, and now headquartered in Cranbury, New Jersey, CARiD is growing by the day. The company supplies automotive accessories and parts by the top manufacturers who guarantee impeccable quality and design of the items produced. At CARiD.com, myriads of exterior and interior accessories, performance parts, automotive lighting items, wheels and tires, and finally, replacement parts are in-stock for cars, trucks, and SUVs. CARiD.com is a user-friendly website ensuring a hassle-free shopping experience, which is due to several convenient navigation options, such as Shop by Vehicle, Shop by Product, and Shop by Brand. The company strives to provide the highest level of customer service over there, that's why all customer service representatives are always polite and helpful.
For further information visit http://www.carid.com/.
CARiD.com
1 Corporate Drive
Cranbury, NJ 08512 USA
Phone: 800-505-3274
Fax: 609-964-1983