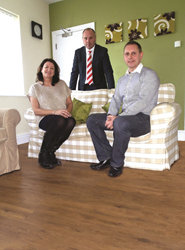 "Often the children and young people that come to stay with us are scared and vulnerable. That's why our new floors will make such a massive difference in creating a calm and safe place for those that do."
(PRWEB UK) 24 February 2014
The UK's market leader in luxury vinyl flooring Karndean Designflooring has donated its first free floor as part of its '40 Free Floors for 40 Good Causes' appeal to South Yorkshire charity SAFE@LAST.
Launched in celebration of its 40th anniversary, the family-owned British company selected SAFE@LAST, a charity which works on behalf of young people at risk through running away, as its first good cause to reward from nominations received via Facebook, with up to 150 sq meters of Karndean flooring.
It comes after receiving a heartfelt nomination from SAFE@LAST's Tracy Haycox MBE, director of children and young people's services, asking for help to transform the charity's refuge, which provides short term, safe and confidential accommodation for children and young people aged 16 years and under.
Joining forces with one of its local retail partners, Rotherham based Wendy's Carpets and Curtains, Karndean successfully transformed the charity's refuge by replacing existing, dated carpet with new Karndean floors throughout the three bedroom property.
The kind-hearted project has seen Art Select 'Morning Oak' installed in the kitchen, hallway, living and dining areas, Van Gogh 'French Oak' in all three bedrooms and Da Vinci 'Cotswold Stone' in the bathroom.
"We're totally overwhelmed by the generosity of Karndean's 40 Free Floors for 40 Good Causes appeal, and of course absolutely thrilled with our brand new floors," commented Tracy Haycox MBE, director of children and young people's services at SAFE@LAST.
She said: "It's so important for our refuge to provide a safe, clean and inviting environment for children and young people who find themselves in difficult situations, where they come into our protection to escape the risk they face at home.
"Often the children and young people that come to stay with us are scared and vulnerable. That's why our new floors will make such a massive difference in creating a calm and safe place for those that do."
Karndean launched its '40 Free Floors for 40 Good Causes' appeal in October 2013 in a bid to help local charities and organisations in the USA, UK, Australia and New Zealand.
The international appeal calls on the public to nominate individuals, families, businesses and other worthy causes that they think deserve to win a free Karndean floor.
There will be 15 worthy winners chosen from the UK in total, with five handpicked by Karndean and ten selected from Facebook nominations. The 40 good causes will also feature 15 winners from the USA and 10 from Australia and New Zealand.
"We were immediately touched by the invaluable work carried out by SAFE@LAST," explains Paul Barratt, managing director of Karndean Designflooring.
He continued: "With our 40th anniversary celebrations focusing on giving back, it's important for us to show how we're able to make a difference within the communities that we serve to help inspire others."
"We're receiving some truly inspirational nominations every month, and we encourage other organisations, businesses or individuals to put themselves forward as we still have seven floors to give away in the UK."
For more information and to nominate in Karndean Designflooring's '40 Free Floors for 40 Good Causes' appeal, visit http://www.karndean40floors.com.
For more information about Karndean Designflooring, visit http://www.karndean.com.