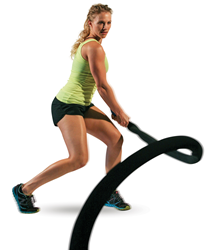 HARD CORE. SandRope battle rope workouts combine cardio with core abs at a club or at home.
Austin, Texas (PRWEB) February 24, 2014
Hyperwear is excited to introduce its latest innovation in functional fitness equipment with the unveiling of the SandRope battle rope as a better alternative for training with heavy fitness ropes in fitness studios, boot camps, health clubs and the home. The SandRope is a neoprene tube filled with sand that is ten feet long and comes in two weights of 30 lbs. and 15 lbs. Attaching the SandRope to an anchor point is optional and the short 10 foot length requires less dedicated space for use. Unlike rope, the neoprene SandRope is a clean product that will not shed fibers.
Said Hyperwear CEO Denver Fredenburg: "The primary problem facilities, trainers and consumers have faced with fitness rope training has been the large space required to use 40 to 50 foot long battle ropes and their limited exercise movements due to the need to have an anchor point. By packing as much as 30 lbs. of weight in a neoprene tube only 10 feet long that can be used without anchoring, Hyperwear has re-invented rope exercise and enabled personal trainers and clubs to engage more clients in less space with a unique and challenging hard core workout. We also are giving home workout enthusiasts a combat rope that works in their space."
In February and March, Hyperwear will be at two major fitness industry events on both coasts demonstrating its new product. See Hyperwear from February 27th to March 2nd at IDEA Personal Trainer Institute East, and the IHRSA trade show booth 4744 in San Diego March 13th and 14th.
Hyperwear includes SandRope combat rope exercises on its Youtube channel.
About us: Hyper Wear Inc. was founded to bring innovative products to market in the areas of fitness, health and wellness. Its innovative products include the Hyper Vest® PRO weight vest, SandBell® sandbag free weights, SteelBell® steel shot filled weights, and SandRope™ battle ropes. Men's Health Magazine described the Hyper Vest as "the best" weight vest, and the non-profit American Council on Exercise (ACE) awarded the Hyper Vest weighted vest its highest five-star rating in an independent review. Hyperwear's products have also been recommended by or featured in Women's Health Magazine, Prevention Magazine, ESPN Magazine, Muscle and Fitness, Men's Fitness, Shape, the Dr. Oz Show, and the Biggest Loser. More information is at http://www.hyperwear.com or call toll free 888-460-0628.