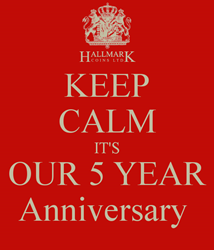 Our success is our customer's success. It's our business to develop the systems and processes to allow them to enjoy the social and financial rewards akin to the practice of investing in and trading in rare and collectable coins.
London, UK (PRWEB UK) 25 February 2014
Hallmark Coins turned five recently. Making them one of the most knowledgeable and accomplished five-year-olds in the industry.
As a progressive company, it seems strange for Hallmark Coins to want to look to the past, other than of course when they're pricing a customer's portfolio through their free valuation service. But on this occasion it would appear fitting. For it would be averse not to celebrate what they have accomplished in a relatively short space of time.
Elliot Basker, Online Business Manager, Hallmark Coins, says, "When we opened our doors on at the beginning of 2009, I don't think that any of us could comprehend what we would accomplish in such a short space of time."
"In just five years we've created an excellent online trading platform for customers to purchase the coins from, launched a free telephonic valuation service, and built a bank of funds that allows us to pay sellers on the same day. More importantly, we've built a no nonsense reputation for paying more than any dealer or pawn shop for gold coins on most occasions. We're extremely proud of that."
Not many companies can say during the global recession that the products they deal in rose in value and they took on more customers, as other businesses lost theirs at an alarming rate. It happened, as people again turned to gold bullion and collectibles in a time of financial crisis. Many would call it foolhardy to start a business right in the middle of a worldwide recession, but in the case of Hallmark Coins, it made economic sense.
So what then lies in store for the company in the future? There is no numismatic crystal ball to gaze into and get all the answers. However, one thing is certain - the experts at Hallmark Coins will work tirelessly to ensure that the next generation of numismatic traders and collectors continue to enjoy the same successes as they've had as an organisation. It's almost a case of 'back to the future'.
Contact Hallmark Coins for more information about selling your British gold or silver collectible coins today.