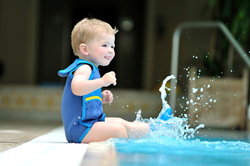 The physical, emotional and mental benefits of baby swimming are manifold.
(PRWEB UK) 23 February 2014
The benefits of baby swimming are manifold. It's not just that they develop physically, emotionally and mentally when in the pool, babies who swim regularly are confident and relaxed in the water, which gives them the awareness they need to stay as safe as possible. Even at the age of two, they can use skills – such as turning onto their backs – to save themselves from drowning. Learning to swim is a key life skill.
However, you might feel a little nervous about taking your baby to the pool for the first time, but follow these simple tips and you will soon be enjoying the water together.
1. Start with splashing your little one in the bath first. Sing songs, gently splash water on their tummy and head and keep him moving around the water. Introduce a bath toy, like one of the Konfidence™ Flashing Floating Blinkies™, to make it fun and take this same toy along with you to the swimming pool for familiarisation.
2. Choose either a specialist baby swimming class or contact your local pool if you are going-it-alone to check the best times to go. Also check out the pool facilities of your chosen venue - any swimming pool you choose should ideally be heated to over 30°C, be of the right depth and have good clean changing facilities.
3. Choose the right baby swimwear to keep him warm and secure, for example a baby wetsuit like the award winning Konfidence Babywarma® neoprene swimsuit. A double layer nappy system is also mandatory at many public swimming pools and swim schools, which means you will need to use a reusable or disposal swim nappy with a neoprene nappy cover – The Konfidence™ Neonappy™ nappy cover is accepted by all major UK baby swimming schools. A chlorine-resistant, non-slip changing mat and poncho towel are also essential.
4. Ready to go? Pack your bag the night before with everything you need, including a snack and a drink for afterwards. If your baby is tired or hungry, they are unlikely to enjoy swimming. For breast or bottle-fed bottles babies, they can be fed immediately before or after swimming, but for older babies on solids, a light snack an hour before swimming is advisable.
5. If you are going alone, keep swimming times short (15 minutes may be long enough the first time), stay relaxed and focus on your baby at all times. Play gentle games like you did in the bath, blow bubbles, sing songs and gently splash water over her tummy and head.
Most of all have fun, and enjoy the bonding experience. For further information and advice on baby swimming visit http://www.konfidence.co.uk.
Konfidence™ is Europe's leading designer of premium protective swimwear for babies, infants and children.