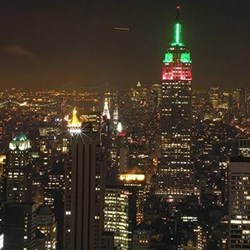 A city's ability to respond to deadly emergencies is based on the efficiency and functioning of its critical systems.
Hoboken, NJ (PRWEB) February 21, 2014
A city's greatest responsibility is its people. And, in an era of constant natural and man-made disasters, the responsibility has grown immensely with cities from all over the world stepping up their disaster planning and recovery initiatives.
With a population of over eight million people within a 300 square mile radius, the city of New York is unceasingly focused on building all of its disaster planning systems. To that effect, the New York City Department of Health and Mental Hygiene (DOHMH), has collaborated with Dr. Jose Ramirez-Marquez, Associate Professor, School of Systems and Enterprises at Stevens Institute of Technology, to develop intelligent systems for the rapid distribution of life saving medical countermeasures to exposed populations in response to a bio-terrorist attack or disease outbreak.
"A city's ability to respond to deadly emergencies is based on the efficiency and functioning of its critical systems," said Dr. Ramirez-Marquez.
To increase the scientific basis on which public health emergency response planning is built upon, and to ensure that the best thinking and efficiencies are built into its recovery systems, the DOHMH is funding a research project for developing advanced modeling and simulation programs that will enable optimization in the allocation of staffing resources in a disaster situation.
"This is a very high profile disaster prevention and recovery plan, said Dr. Ramirez-Marquez. Public health emergency response systems are logistically very complex. Determining throughput capacity, staffing requirements, transportation necessities, and site layout to maximize resources are some of the intricacies that need to be addressed while building the recovery system."
"We are developing a research module that will ensure the optimization of the staffing requirements needed for the distribution of medications in all of the DOHMH disaster recovery facilities. The goal is to translate the rigor of scientific research into a complex public emergency system, and build systems that are intelligent, efficient, and resilient, and will advance the city's capability to prepare, respond, and recover from disasters," summed Dr. Ramirez-Marquez.
About Stevens Institute of Technology
Stevens Institute of Technology, The Innovation University®, is a premier, private research university situated in Hoboken, N.J. overlooking the Manhattan skyline. Founded in 1870, technological innovation has been the hallmark and legacy of Stevens' education and research programs for more than 140 years. Within the university's three schools and one college, more than 6,100 undergraduate and graduate students collaborate with more than 350 faculty members in an interdisciplinary, student-centric, entrepreneurial environment to advance the frontiers of science and leverage technology to confront global challenges. Stevens is home to three national research centers of excellence, as well as joint research programs focused on critical industries such as healthcare, energy, finance, defense, STEM education and coastal sustainability. The university is consistently ranked among the nation's elite for return on investment for students, career services programs and mid-career salaries of alumni. Stevens is in the midst of a 10-year strategic plan, The Future. Ours to Create., designed to further extend the Stevens legacy to create a forward-looking and far-reaching institution with global impact.