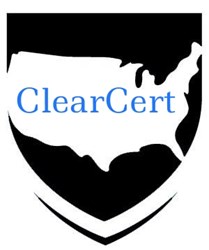 With the updated regulations, producers may not represent long-term care insurance if they fail to complete refresher training on time
Cincinnati, Ohio (PRWEB) February 21, 2014
ClearCert (the Compliance Certification Clearinghouse, LLC) has responded to changes in the Illinois long-term care training requirements effective 1/2/2014.
The state's LTCI training regulations now require producers to complete refresher training by the end of the licensing period after completing the last 8 or 4 hour course. This represents a change from the previous requirement that producers complete refresher training within 24 months of the last course.
"This change will extend the refresher training deadline for many producers," explained Bill Wienhoff, ClearCert's president and membership director. "This is helpful because of another more complex change the state has implemented."
Before the new changes took effect, producers who failed to complete refresher training on time were required to re-take the "one-time" 8 hour initial training course. "With the updated regulations, producers may not represent long-term care insurance if they fail to complete refresher training on time," explained Wienhoff. "However, if it has been less than 12 months after the missed deadline, producers can complete a 4 hour refresher course to reinstate their can-sell status for the product. If the lapse period lasts more than 12 months, then the producer must re-take the 'one-time' 8 hour course. In effect, the state has introduced an additional deadline carriers must track to enforce training compliance."
ClearCert's automated training validation tools, developed under the direction of more than a dozen LTCI carriers, simplifies the complex task of tracking Illinois producer status under the reworked regulation. "Our validation tools deliver an instant status calculation based on training records reported to ClearCert by our network of training providers – saving our member firms a vast amount of time and effort while ensuring consistency, since the rules for all 42 states that have implemented a training requirement in the wake of the 2006 LTCI Model Act – including reciprocity – are built into the automated calculation. LTCI distributors can easily calculate the status and upcoming deadlines for an unlimited number of producers in one or all of the Model states," said Wienhoff.
Calculations can be performed via log-in to the company's website or through integration of the company's web service into appointment, licensing or contracting systems.
Because ClearCert has been established as a shared information clearinghouse, access to the data and validation tools is extremely affordable for organizations of any size, according to Wienhoff, who invites LTCI carriers and distributors to see how the system works for themselves. "We virtually eliminate the enormous complexity involved with validating LTCI training requirements," he promised.
About ClearCert
ClearCert is the gold standard for validating product-specific training compliance. More than 1,000 member insurance carriers, distributors and training providers share data through the firm's clearinghouse. State-by-state training rules and courses pre-certified to fulfill them are published on the firm's website, http://www.ClearCert.com.