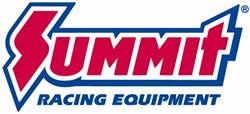 Tallmadge, OH (PRWEB) February 22, 2014
Installing valve cover breathers isn't high on the difficulty scale—but the Summit Racing Valve Cover Breather Baffle Kit makes the job that much easier. The kit allows you to install a breather on a valve cover not originally equipped with a breather, or to position an additional breather.
The aluminum baffle is threaded and is attached to the valve cover with a lock nut, O-ring and a sealing washer. Just drill a 1.375 inch hole in the valve cover and lock the baffle in place. Simple and secure, and the baffle keeps oil from pushing through the breather.
The Summit Racing Valve Cover Breather Baffle Kit accepts most push-in valve cover breathers that fit a one inch I.D. hole. The breather is not included.
SEE THE SUMMIT RACING VALVE COVER BREATHER BAFFLE KIT
Summit Racing Equipment
http://www.SummitRacing.com
1-800-230-3030