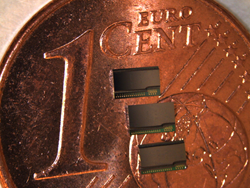 This is a major step in the execution of our strategy to offer innovative technologies for Consumer Products with the intent to give IDMs and OEMs access to state of the art inertial solutions. - Pascal Langlois, CEO.
Grenoble, France; Dallas, TX (PRWEB) February 24, 2014
One year after announcing the industrialization of CEA-Leti's M&NEMS technologies, Tronics has successfully designed and manufactured the first batch of 6DOF MEMS chips, with 3 accelerometers and 3 gyroscopes on a single die. With a die size of less than 4mm2, this 6DOF MEMS chip is one of the smallest in the industry, and further optimization will make it the smallest.
Besides its size advantage, the piezoresistive nanowire based technology significantly decreases power consumption and allows manufacture of all sensor types (accelerometers, gyroscopes, magnetometers, pressure sensor and microphone) using a common process flow.
Tronics used its know-how in DRIE, wafer bonding and Wafer Level Packaging to design a manufacturable process flow that combines traditional inertial MEMS blocks and sub-micron processing technology. With the delivery of these chips, the main technical challenges linked to the manufacturing of the nanowires have been successfully addressed.
The initial performance results are very promising. The sensitivity, power consumption, and noise characteristics are in line with the design models. This first functional batch is an important milestone towards high volume production. The industrialization work will continue through 2014, with the first commercial samples available in Q4 2014. An ASIC is also being designed and will be available in 2014 to complete the sensor platform.
In addition to the 6DOF device, Tronics has also designed a very compact 9DOF monolithic MEMS. Samples will be available by the end of this year.
Tronics will manufacture medium and large volumes in its European (Grenoble, France) and US (Dallas, TX) wafer fabs, and will partner with external foundries for manufacturing at very high consumer volumes.
The ideal applications for this new generation of inertial devices are those where size and/or power are key: wearable devices, smartphones and tablets.
Pascal Langlois, CEO of Tronics Group, said: "This is a major step in the execution of our strategy to offer innovative technologies for Consumer Products with the intent to give IDMs and OEMs access to state of the art inertial solutions in terms of process technology, size, power consumption and performance. Tronics is delighted to have already partnered with a leading customer and we are very pleased to dramatically reduce time to market and enable superior end product performance."
About Tronics:
Tronics is an international, full-service MEMS manufacturer. With wafer fabs in France and the USA, and representation in Asia, Tronics provides local support to customers on three continents, and offers one of the broadest technology portfolios in the industry. Tronics' services range from MEMS design, to high-volume MEMS manufacturing. The company builds reliable supply chains for delivery of MEMS ranging from wafers to integrated custom components, but also supports earlier phases of projects where prototyping is required. Founded in 1997, Tronics has more than 15 years of experience in developing, manufacturing, and packaging accelerometers, gyroscopes, micro-pumps, pressure sensors, switches, bio-detectors and many more MEMS.
About CEA-Leti:
CEA-Leti, located at the heart of Grenoble's MINATEC innovation campus, is the leading French applied research centre for microelectronics, and for information and healthcare technologies. Providing a unique interface between industry and academic research, it is responsible each year for the development and transfer of innovative technologies in a wide variety of sectors. In addition to Leti's 1,700 employees, there are more than 250 students involved in research activities, which makes Leti a mainspring of innovation expertise. Leti's portfolio of 1,800 families of patents helps strengthen the competitiveness of its industrial partners.