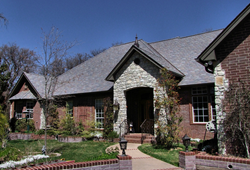 Kansas City, KS (PRWEB) February 24, 2014
From calming grays to soothing purples, national color expert Kate Smith believes 2014 will be the year of "quiet elegance" for roofing colors across America.
"Our homes provide us with a haven to satisfy a craving for a place to think and renew," says Smith, president and chief color maven at Sensational Color. "Having all five of our senses continually bombarded in daily life has created a deep desire for a home environment that conveys harmony and calm.
"We get that sense of silence and contentment in the tones of deep gray, smoky plum and even muted teal. These are the 'top down' color shades we'll see gaining in popularity on home exteriors in 2014."
Smith, who works with DaVinci Roofscapes to provide color expertise, offers insights and advice to homeowners eager to create cohesive exterior home color palettes. "The roof carries so much visual weight on the home exterior that I always recommend starting there and working your way down with cohesive colors," says Smith. "A popular grayish purple color on the roof, like DaVinci's European blend of light, medium and dark gray mixed in with light and dark purple slate tiles pairs beautifully with gold, bronze or deep plum on the rest of the home's key exterior features."
For those homeowners looking for a more reserved color combination with timeless elegance, Smith recommends focusing on neutral exterior tones. "Try colors with depth such as mid-tone sage green and deep, rich brown," says Smith. "This type of combination gives the home an updated personality right for today.
"Roofing blend colors Autumn and Tahoe accent brick, stone and stucco equally well on home exteriors. Then, if they choose, homeowners can add in a pop of warm red or orange on the front door or a deep green for the shutters to make a stand-out impression."
Smith, who authored the "FRESH Color Schemes for Your Home" and "FRESH Exterior Home Colors" e-books available free from DaVinci, encourages homeowners to connect exterior colors on the home with their internal needs.
"Ours is a fast-paced, hectic world that doesn't allow a great deal of time for relaxation," says Smith. "When we approach our homes we should immediately feel an inviting sense of welcome. The colors we select for our home exteriors make that first impression on our mental selves each day and encourage us to relax. This is one reason why the calming shades of blue have become so popular on home exteriors.
"Blue reflects a freshness and revitalization. A blue exterior --- even if it's a shade of teal or blue-green --- marries beautifully with both crisp white trim accents and playful neutral stone and tan roofing colors. In my mind, the perfect exterior combination would be the DaVinci New Cedar shake roof blend of five shades of cedar shingles capping off blue siding on a house with deeper blue shutters, white trim and porch system. Add colorful flowering bushes around the perimeter and you're set."
For additional color insights for the roof and home, visit http://www.davinciroofscapes.com and http://www.sensationalcolor.com.
The experienced team members at DaVinci Roofscapes develop and manufacture industry-leading polymer slate and shake roofing systems with an authentic look and superior performance. DaVinci leads the industry in the greatest selection of colors, tile thickness and tile width variety. The company's reliable products have a 50-year limited warranty and are 100 percent recyclable. All DaVinci high-performing roofing products are proudly made in America where the company is a member of the National Association of Home Builders, the National Association of Roofing Contractors, the Cool Roof Rating Council and the U.S. Green Building Council. For information call 1-800-328-4624 or visit http://www.davinciroofscapes.com.
###
PHOTOGRAPHY: Contact Kathy Ziprik at kziprik (at) aol (dot) com or visit the Media Room http://mediaroom.davinciroofscapes.com and click on the Image Gallery.