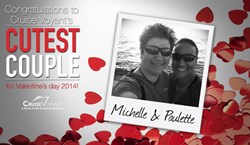 "We're excited to be able to help Michelle and Paulette choose their dream vacation," Alexis Kovic, Creative Director at Cruise Voyant said. "Our cruise specialist will match them to ideal cruises through our proprietary search tool and cruise expertise."
Fort Lauderdale, FL (PRWEB) February 21, 2014
CruiseVoyant.com is excited to announce the winner of their Cruise for Love photo contest. Michelle Padula, an Illinois resident, won the cruise with her fiancé, Paulette. After a month-long competition, Cruise Voyant publically announced the winners on their Facebook Page. The winners received $1000 toward the romantic cruise of their choice from Cruise Voyant. One of several hundred entries to enter, Michelle's winning entry was the highest voted photo and love story.
"What an awesome Valentine's Day surprise," commented Michelle Padula on her win. "Finding out today that we won was really exciting because today is a special day for us as six months ago today we had our very first date so this is a really special Valentine's Day gift to us!"
Their Love Story:
"We met on OKcupid in August 2013, however I first saw her at a fundraiser almost a year before and I thought she was beautiful but was too afraid to go up and talk to her, then after a few months one of her friends started dating one of my friends and I started seeing her photos on my friend's facebook page and remembered her from the fundraiser. My friend kept telling me she wanted me to meet some of her girlfriends friend because there was one woman that she really thought I would hit it off with and I kept saying, yeah, yeah, one day I'll go out with you guys, but I had no idea she was talking about Paulette."
Read the remainder of Michelle & Paulette's love story on Cruise Voyant's blog.
Cruise Voyant connected Michelle and Paulette with a Cruise Voyant specialist, available 24/7 to help them choose the perfect romantic cruise for them. Offering cruises from all the major cruise lines including romantic lines such as Celebrity Cruises, MSC Cruises and Princess Cruises. For a mix of romance and fun, Michelle and Paulette can also embark on cruise lines such as Disney, Norwegian, Carnival or Royal Caribbean.
"We're excited to be able to help Michelle and Paulette choose their dream vacation," Alexis Kovic, Creative Director at Cruise Voyant said. "Our cruise specialist will match them to ideal cruises through our proprietary search tool and cruise expertise."
About Cruise Voyant
Cruise Voyant is a Fort Lauderdale-based cruise agency that is revolutionizing the cruise booking process. Cruise Voyant solves many of today's most difficult booking issues by allowing visitors to view a historic look at how pricing has changed on a particular ship and sail date. Cruise Voyant also offers interactive cruise itinerary maps, and it provides tens of thousands of photos of ships and destinations worldwide. Cruise Voyant helps consumers easily find their dream vacation by empowering them with online advice and insights that will help them easily book and manage their vacation plans.