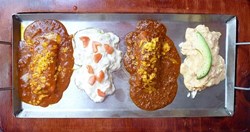 Houston, TX (PRWEB) February 21, 2014
Sylvia Casares, owner and executive chef of Sylvia's Enchilada Kitchen will be celebrating National Enchilada Month this year throughout May by offering a Culinary Tour of the Texas and Mexico border via a Parilla of Enchiladas, The North (Tex-Mex) or The South (Mex-Mex).
A Parilla of Enchiladas consists of four petite signature enchiladas that are served with rice, beans and a picamole salad, for $16.75 per person, plus tax and gratuity. For more information or reservations, please call 281-679-8300.
"People often ask me, what is Tex-Mex?" said Casares. "I believe Tex-Mex is the first regional fusion cuisine in America. When the Europeans came to Texas, they brought with them cattle and yellow cheese. Come those items with Mexican cuisine, and you get Tex-Mex."
Casares, who is often affectionately referred to as the "Enchilada Queen," sees the Parillas as her culinary enchilada road trip.
"My enchiladas reflect the different cooking traditions found on the Texas-Mexico border, in Texas and in Mexico. From McAllen to Lubbock, Crystal City to Sarita, Mexico City to Puebla, these are the authentic Tex-Mex (border cuisine), Tex-Tex-Mex (north of the border) and Mexican (south of the border) style enchiladas," said Casares. "And they are worth driving for!"
The North (Tex-Mex)
includes four petite enchiladas:
Refugio
Cheese Enchiladas – blend of Cheddar Cheese with Sylvia's Signature Chili Gravy
Sarita
Enchiladas de Calabacita - Traditional Mexican vegetables, calabacita and corn, sautéed and combined with Queso and topped with a Light Cream Sauce
Lubbock
Beef Enchiladas – topped with our meatier Signature Gravy prepared West Texas Style
Laguna Madre
Two fresh Crab Enchiladas topped with our creamy seafood sauce
The South (Mex-Mex)
includes four petite enchiladas:
Mexico City
Chicken Enchiladas – Made the Classic Mexican Way and topped with
Salsa Verde and sour cream
Morelia
Enchiladas Rojas – Filled with Queso Fresco and onions with a spicy Red Chili Sauce
Hidalgo
Enchiladas de Carnitas – Grilled Pork Enchiladas served with either Verde Sauce or a Red Sauce topped with avocado slices. Red Sauce is HOT!
Puebla
Enchiladas Mole – Tender cooked chicken topped with our traditional Mole Poblano
To see pictures of Sylvia's Enchilada Kitchen and their delicious menu items, visit http://www.flickr.com/photos/Sylvias-Enchilada-Kitchen.
About the restaurant:
Sylvia's Enchilada Kitchen, located at 6401 Woodway and 12637 Westheimer in Houston, TX, is famous for its Carne Asada, Chili Rellenos, Fish Tacos, Carne Guisada, and hand-made corn and flour tortillas. On most Saturdays, Casares teaches hands-on cooking classes to individuals and groups at her restaurant. Sylvia's serves authentic and delicious Mexican cuisine for both lunch and dinner. Their private dining room is available for reservations for business and family gatherings. For more information about Sylvia's Enchilada Kitchen, please call 713-334-7295, or visit our website at http://sylviasenchiladakitchen.com/.