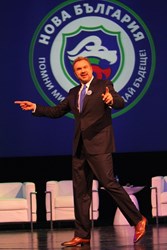 Abbotsford, British Columbia (PRWEB) February 23, 2014
Saturday February 15, 2014 – at 12:00 hours in Rainbow Plaza. For the first time in Bulgarian history, and other countries may want to take note, a political party has been assembled that requires political candidates to raise their own funds. Gone are the days of special interest contributions. At least, for the social-media born Nova Bulgaria party.
What began as a Facebook group called "Political Change Now" in June of 2013, which quickly gathered over 200,000 supporters, has become an organized political party, complete with an economic recovery plan. After an extensive series of uncensored YouTube interviews, it was found that 92% of Political Change Now members were in favor of forming an official political party.
The party's recovery plan is titled "Strategy for Accelerated Economic Growth of the Republic of Bulgaria" - a hefty tome put together by experts that takes a factual account of the economic situation in Bulgaria – and what to do about it. Every Bulgarian is welcome to join the party, and every member sets their own membership dues. For the first time in the modern history of Bulgaria, the power and choice is indeed in the hands of Bulgaria's people.
Also noteworthy is how the group started. Michael Straumietis, CEO of international biotechnology company Advanced Nutrients, has been living in Bulgaria since 2007. After founding the Holiday Heroes charity, which has been very well received by the Bulgarian people, Mr. Straumietis was moved by the struggles of his new Bulgarian friends and family, and saw an opportunity to use the influence of social media to change the political landscape of a people ready for change.
Not only does Nova Bulgaria offer unprecedented ability for the Bulgarian people to communicate, with each other and with their elected officials, but it offers unprecedented political transparency, because every move the group makes is documented online.
The group has even created a political "corruption map" (http://www.corruptionmap.bg) which gives the people a voice about exactly which nefarious political issues they have faced, where the incident occurred, and the tracking of the solution in real time.