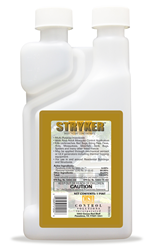 Pasadena, Texas (PRWEB) February 23, 2014
CSI introduces Stryker™ into their already diverse line of vector control products. Stryker is a multi-purpose concentrate insecticide that contains 6% pyrethrins and 60% piperonyl butoxide for a fast knockdown and efficient control of insect pests. Stryker can be mixed with other insecticides or insect growth regulators to enhance its effectiveness.
For more information on Stryker and CSI's vector control line, visit their website at http://www.controlsolutionsinc.com.
About Control Solutions Inc. (CSI)
Control Solutions began as a family owned business in 1958 and is built on to the commitment of serving the professional pest control and retail markets. CSI has added product lines for the Industrial, Lawn and Garden, Animal Health and Biocide markets, and is working with over 80 distributors serving those markets. Control Solutions maintains relationships with chemical manufacturers worldwide and provides a ready supply of products in distribution warehouses across the U.S. The partnership with Makhteshim-Agan Industries multiplies Control Solutions' agility in continuously adding new products to meet the needs of professionals and homeowners. "The one constant since the beginning in 1958 is our mission focus: to seek out and distribute effective and economical solutions for our customers," stated Mark Boyd, President and founder of CSI.
About ADAMA Agricultural Solutions
ADAMA Agricultural Solutions Ltd. is a leading global manufacturer and distributor worldwide of crop-protection solutions. The Company supplies efficient solutions to farmers across the full farming value-chain, including crop-protection, novel agricultural technologies, and complementary non-crop businesses. In 2012, the Company's revenues were over $2.83 billion, and it is ranked seventh in the world in the overall agro-chemicals industry. The Company is characterized by its heritage of innovation, farmer-centric approach to product development, and observance of strict standards of environmental protection and quality control.
For more information about ADAMA, visit http://www.ma-industries.com.