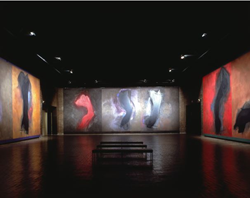 (PRWEB) February 24, 2014
The spirit of St. Patrick is headed to Westchester as the county prepares for St. Patrick's Day celebrations tailored for the entire family, and that is just part of the excitement. There is more in store for those looking for arts and culture, exquisite dining and relaxing hotel packages throughout the month of March. Now is a great time to visit Westchester, the first stop in the Hudson Valley, for a day trip or a weekend getaway.
The following are events, attractions and packages featured this March:
Enjoy Irish Culture for St. Patrick's Day
Round up the family and go to one of the many St. Patrick's Day parades throughout the county that attract hundreds of locals and visitors. Join in on the fun and wear green to represent St. Patrick's Day pride. Whether adorned with shamrock-shaped sun glasses, a green hat or beads be prepared for a memorable extravaganza.
Come to the 17th Annual City of White Plains St. Patrick's Day Parade on Saturday, March 8. The parade kicks off at noon and is similar to many across the county and across the world. It celebrates the contributions of the Irish through their rich culture and music, their indomitable courage and spirit, and their legendary warmth and humor. The White Plains Parade has grown exponentially, and last year had Five Divisions, with over 26 musical performances, five floats, and 90 groups participating in the parade on Mamaroneck Avenue. This year, the parade is expected to be even larger. Mary Helen Jordan will be the Grand Marshall. The celebration continues in White Plains after the parade with the Cultural Tour that provides an opportunity to visit many nearby venues for as much corned beef and cabbage one can eat, as well as other food and drinks with lots of Irish music and dance. For more information, visit http://whiteplainssaintpatricksday.com.
The fun doesn't stop there. The celebration of St. Patrick is enjoyed throughout the entire month in Westchester. Two great St. Patrick's Day parades in Yonkers have become one. The merger of the Yonkers St. Patrick's Day Parade with the McLean Avenue Merchants Association St. Patrick's Day Parade which will now be known as The Yonkers St. Patrick's Day Parade on McLean Avenue. This combination begins a new era for Yonkers. On Saturday, March 22, the 59th Annual Yonkers St. Patrick's Day Parade will kick off at 1:00 p.m. on McLean Avenue in Yonkers near Bronx River Road, marching west on McLean Avenue to Coyne Park. Reverend Thomas Collins, President of Stepinac High School will be the Grand Marshall of the event complimented with music and culture. Complimentary shuttles and parking from the Yonkers Avenue parking lot of Empire City Casino to McLean Avenue is available from 9:00 a.m. to 5:00 p.m. This will truly be a grand celebration of St. Patrick and Yonkers' Irish heritage. For more information, visit http://www.yonkersstpatricksparade.org.
The next day, Sunday, March 23, head over to the 3rd Annual Sound Shore St. Patrick's Day Parade kicking off at 1:30 p.m. on Mamaroneck Avenue in Mamaroneck. Leading the way as the Grand Marshall will be Westchester's own Deputy County Executive Kevin J. Plunkett. In addition to the parade, which attracts thousands of participants, various events and activities in support of Irish-American culture in neighboring communities will take place, including an annual golf outing, a sash presentation dinner and academic scholarships. For more information, visit http://soundshoreparade.com.
The "Luck of the Irish" will be musically profound at Empire City Casino in Yonkers with the popular New York City based Irish-American bands, Black 47 and Shilelagh Law, in a pre-St. Patrick's Day outdoor trackside concert (rain, snow or shine) on Sunday March 16 from 2:00 p.m. to 6:00 p.m. The Irish celebration won't stop at the music. A Jameson tent will serve fan favorite cocktails and the Irish beer tent will quench the thirst of concert goers with Guinness, Harp Lager, Smithwicks Irish Ale, and Magners Cider. There will be food aplenty with the traditional corned beef and cabbage, bangers, burgers with Guinness onion rings and more. When the outdoor concert ends and the chill begins to set in, the party moves inside for more live entertainment with the Steve Reilly Duo performing in Dan Rooney's Sports Pub from 8:00 p.m. to 11:00 p.m. and Girsa performing in the Entertainment Lounge from 9:00 p.m. to 12:30 a.m. Empire City Casino is located at Yonkers Raceway at 810 Yonkers Avenue. For more information, call (914) 968-4200 or visit http://www.empirecitycasino.com.
Arts & Culture
There's lots of culture in Westchester, especially when it comes to the arts. Visit the Mahlstedt Gallery in New Rochelle for its newest exhibit Surface Tension. The two-person exhibition featuring artwork by Ellie Winberg and Mauricio Morillas incorporates copper, Japanese handmade paper and glass, creating a contrast between a soft material and something that is hard and cold. Imperfect tears and undulating overlays create ever-changing shadows yielding uncanny resemblance in styles between the two artists. Minimal surfaces incorporated with tension-packed texture, bring viewers to a place outside the literal subject matter. The vast body of work represents Zen-like influences and serene approaches to the process. Emphasis is placed on purity, and techniques involving pouring, mixing, dying, layering, mounting and transforming materials manifest into 2D and 3D sculptural archetypes. This artwork will be on exhibit through Friday, March 21. Mahlstedt Gallery is located at 415 Huguenot Street in New Rochelle. For more information, call (914) 246-0526 or visit jam415.com.
ArtsWestchester in White Plains is pumping up the art volume with a stunning exhibition called HATtitude. More than 160 hats from contemporary couture milliners and private collections of vintage and global headwear are on display through Saturday, April 12. ArtsWestchester is located at 31 Mamaroneck Avenue in White Plains. Exhibition hours are Tuesday through Saturday, 12:00 p.m. to 5:00 p.m. For more information, call (914) 428-4220 or visit http://www.artswestchester.org/hattitude.
At the Neuberger Museum of Art at SUNY-Purchase College, view Cleve Gray's Threnody: Forty Years. This monumental exhibit, which was first created 40 years ago, is part of the museum's 40th anniversary celebration and features 28 contiguous panels installed in the museum's Theater Gallery, effectively converting it into a cathedral with tall vertical forms engaged in a "dance of death and life." According to Assistant Curator Avis Larson, "Threnody considers opposites – male and female, love and hate, conflict and peace." The work is a lamentation on the loss of life in the Vietnam era, which still speaks to us today. "In many ways, we are facing similar issues relating to war and the loss of innocent lives, in addition to the many other situations we have to confront here in the United States, such as gun violence," Larson notes. The Neuberger Museum is located on the campus of SUNY-Purchase College located at 735 Anderson Hill Road in Purchase. For more information about this exhibit and other art at the museum, call (914) 251-6100 or visit http://www.neuberger.org.
Delicious Dining
Get your palettes and taste buds ready. Showcasing the bounty of the region, Hudson Valley Restaurant Week (HVRW) returns March 10 through 23. Enjoy great dining and great deals at more than 180 restaurants throughout the Hudson Valley, including more than 100 in Westchester County. No tickets or passes are required, although reservations are strongly encouraged. HVRW features prix fixe, three-course dinners for $29.95 and lunches for $20.95 (plus drinks, tax and tip). For more information and for a full list of participating restaurants, visit http://www.hudsonvalleyrestaurantweek.com/restaurants_2014.php
In addition, the exquisite restaurant at the Castle Hotel & Spa in Tarrytown, Equus Restaurant, has been featuring its own signature restaurant month with a special three-course menu. The sumptuous Auberge cuisine menu includes a glass of wine paired by the Sommelier during lunch or 50 percent off on selected bottles of wine from its cellar during dinner. Offered at just $29 for lunch and $48 for dinner, appetizers include celery root soup or chopped salad. Choose between Montauk Point skate wing and the 48-hour braised beef short rib for an entrée. And, for dessert, a frangipan and berry tart, and a belgian chocolate mousse cake are featured. The special menu is offered through Sunday, March 9 (excluding Saturday and Sunday brunch). Reservations are required and seating is limited. The Castle Hotel & Spa is located at 400 Benedict Avenue in Tarrytown. To make reservations, call (914) 631-3646 or email Equus@castlehotelandspa.com. For more information, visit http://www.castlehotelandspa.com.
If you want to support young culinary artists, make a reservation at The Dining Lab, a student-run restaurant, at Monroe College in New Rochelle as part of its School of Hospitality Management and the Culinary Arts. The Dining Lab offers a three-course gourmet dinner with a selection of homemade meals including, but not limited to, risotto with caramelized fennel and saffron as appetizers, and a duo of chicken, smoke-roast pork loin, and pan-seared bass for entrees. Desserts include a chocolate hazelnut pyramid, an apple cranberry crisp with caramel sauce, and a cheese flight featuring local artisan cheeses. The menu is offered at a fixed priced of just $18.95. The restaurant is currently open Tuesday through Thursday, with three seating options at 6:30 p.m., 7:00 p.m. and 7:15 p.m. Monroe College is located at 434 Main Street in New Rochelle. For reservations, call (914) 740-6421. For more information, visit http://www.thedininglab.com.
Stay & Play
After a day full of exciting activities, wind down at one of the many hotels in Westchester that offer relaxation and rest for rejuvenation. For example, "escape" to Doral Arrowwood hotel in Rye Brook and dance the night away with the Escape Package. With this winter vacation offer, arrive early and stay late in the guest room and then enjoy special benefits like complimentary cocktails in the Pub, 15 percent off an evening of fine food and fun at the Saturday Night Dinner Dance, and a complimentary sumptuous hot breakfast buffet the next morning in the Atrium overlooking the golf course. Only 10 minutes from downtown White Plains, Doral Arrowwood is located at 975 Anderson Hill Road in Rye Brook. The Escape package starts at $289 per couple. For more information, call (914) 939-5500 or visit http://www.doralarrowwood.com.
The Radisson Hotel New Rochelle, which provides guests with contemporary style rooms that have sweeping views of the Long Island sound, has put a spin on welcome gifts for travelers by providing assorted special amenities that can be added to the hotel stay. Traveling with your special loved one? Ask for a Wine Basket in your room that includes one bottle of house selected red or white wine, assorted cheeses, toasted pita chips, fresh seasonal fruit and two bottles of water. Or, if the trip to Westchester is with a group of buddies, add on The 6 Pack to your hotel stay. This amenity includes six assorted domestic and imported beers, pretzels, chips and dips, and house-made spicy pork rinds. There is also something for the health-conscious traveler. The Healthy Snack includes one large bottle of flat water or a one large bottle of sparkling water and assorted fresh seasonal fruit and granola bars. The Romantic Treat with strawberries, raspberries and champagne, as well as The Sugar Rush with assorted candies are also amenity options. Starting at $20, these added welcome amenities will make the stay in Westchester that more enjoyable. The Radisson Hotel New Rochelle is located at One Radisson Plaza in New Rochelle. For more information, call (914) 576-3700 or visit http://www.radissonnewrochelle.com.
For more of the latest events and happenings in Westchester, log onto http://www.visitwestchesterny.com, like us on Facebook (facebook.com/westchestercountytourism), follow us on Twitter @westchestertour or call 1-800-833-9282.
To view the Westchester County Destination Guide, please visit http://digital-editions.mediatwo.com/westchester-destination.
About Westchester County Tourism & Film
Tourism & Film is Westchester County's official destination marketing organization. Its mission is to generate economic benefits by enhancing the image and promoting Westchester County as a premier business and leisure destination in the Hudson Valley region. The Tourism & Film Office in Westchester County is a Division within the County Executive's Office of Economic Development.