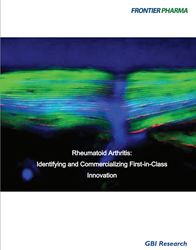 Rockville, MD (PRWEB) February 27, 2014
Frontier Pharma: Rheumatoid Arthritis - Identifying and Commercializing First-in-Class Innovation
The highly competitive RA market is saturated with multiple targeted monoclonal Antibody (mAb) therapies and small molecules, yet more of these treatments are expected to enter the market over the next few years. The RA market contains several of the top-selling therapies across the entire drug industry. Humira (adalimumab), Rituxan (rituximab), Remicade (infliximab) and Enbrel (etanacept) generated global revenues of $9.3 billion, $7.2 billion, $6.1 billion, $4.2 billion, respectively in 2012, which secured their positions in the top 20 bestselling drugs of that year. In addition, other commercially strong drugs include Actemra (tocilizumab), Simponi (golimumab) and Cimzia (certolizumab), which have individually generated annual revenues in the $600–900m range.
These therapeutics are not well differentiated in terms of clinical efficacy and safety profiles and all require administration through injection. The major opportunity for therapeutics entering the market is therefore to compete and outperform the dominant drugs in order to claim and build market share. Although the pipeline for RA is relatively well-stocked, with a total of 577 programs, and a high level of first-in-class innovation, therapeutic improvements are likely to be moderate, thereby maintaining the competitive status quo.
"Frontier Pharma - Rheumatoid Arthritis: Identifying and Commercializing First-in-Class Innovation" is the first in a portfolio of indication-specific reports that will examine early-stage innovation and licensing trends across immunology, oncology and CNS disorders. The reports employ complex data methodologies and detailed scientific writing to identify and understand the real opportunities within early-stage development to deliver insight and analysis unlike any other business intelligence report on the market.
The RA report provides identification and assessment of innovative pipeline products accompanied by a proprietary data analysis on the trends in-licensing and co-developments deals by the phase of development, molecule type, molecular target, mechanism of action and route of administration. The methodology provides key supporting datasets to support end-users in assessing the value of novel products for both acquiring and out-licensing companies to optimize the conditions of future deals.
To order this report:
Frontier Pharma: Rheumatoid Arthritis - Identifying and Commercializing First-in-Class Innovation
Contact: Shauna
800.298.5699
Customerservice(at)marketresearch(dot)com
GBI Research
GBI Research provides industry-leading global business intelligence solutions. Our products and services help companies make better business decisions, win business and position themselves more effectively. GBI Research publishes more than 100 research reports per annum across a wide range of industries.
About MarketResearch.com
MarketResearch.com is the leading provider of global market intelligence products and services. With research reports from more than 720 top consulting and advisory firms, MarketResearch.com offers instant online access to the world's most extensive database of expert insights on global industries, companies, products, and trends. Moreover, MarketResearch.com's Research Specialists have in-depth knowledge of the publishers and the various types of reports in their respective industries and are ready to provide research assistance.
Follow us on Facebook http://www.facebook.com/marketresearchdotcom
Follow us on Twitter http://www.twitter.com/marketresearch_
Frontier Pharma: Rheumatoid Arthritis - Identifying and Commercializing First-in-Class Innovation - Table of Contents:
1 Table of Contents
2 Introduction
4 Assessment of Pipeline Product Innovation
5 First-in-Class Target and Pipeline Program Evaluation
6 Deals and Strategic Consolidations
6.1 Licensing Deals
6.2 Co-development Deals
6.3 First-in-Class Programs which have not been involved in Licensing or Co-Development Deals
7 Appendix