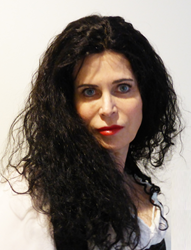 Carmen is a true liberated woman.
Warren NJ (PRWEB) February 25, 2014
Eastern Opera of New Jersey opens its second season with Georges Bizet's popular tragic opera, Carmen. The opera will be performed in its original four acts with engaging and traditional stage direction by Eastern Opera's General Director, Karole Lewis. Eastern Opera Artistic Director and Conductor, Maestro Robert Butts, will be leading a robust chamber orchestra for each performance. Professional singers as well as a full chorus of adults and children will be drawn from various communities in New Jersey and New York.
Eastern Opera's Carmen will be performed on successive Saturday evenings, March 22 and March 29; and Sunday matinees on March 23 and March 30. Saturday performances will begin at 8:00 p.m. and Sunday performances at 3:00 p.m. at the Brook Theater in Bound Brook, NJ. Carmen will be sung in English with a vibrant and easily accessible translation by Eastern Opera's General Director, Karole Lewis.
Generations of opera lovers and those new to opera have been bewitched and entranced by the lush melodies and engaging orchestrations of the opera Carmen. Adapted from the French novella of Prosper Merimee, Bizet's Carmen is set in Seville, Spain during the 1820s. The action is animated and flowing, never dragging and always exciting to hear and see. Bizet, well-acquainted with Spanish folk-life and folk-music portrays scenes and characters within the magical allure of "local color" but with strikingly original and vocally exuberant melodies. The leading character of Carmen occupies the action whenever she is on stage—which is quite often indeed.
Alongside the many and varied accompanying roles, the opera Carmen provides a dynamic theatre experience with vocally alluring arias and ensembles as well as endearing orchestral interludes spread throughout the score. Clearly, Bizet's Carmen is one of the greatest operas in the standard operatic repertoire.
Soprano Karole Lewis of Warren, NJ plays the title role of Carmen—bringing to the role a wealth of operatic experience, extraordinary vocal talent, and intuitive understanding of the exciting role of the famous gypsy, "Carmencita." Ms. Lewis performed the role in Santa Cruz, California with Bay City Opera and received standing ovations and critical acclaim.
The character of Carmen is filled with a joyous, often reckless passion for life. Her romantic encounters are short-lived and her adventures are wild and full of zest and ardor. This doesn't seem to bother anyone except for one of her lovers, Don Jose, who wants to possess her. Unfortunately for Carmen, Don Jose's obsession leads to her demise. Indeed, Carmen cannot be controlled. Ms. Lewis comments: "Carmen is a true liberated woman. Her character is intriguing and unique for its time in history when women were not allowed to speak out. Carmen doesn't seem to care what people think of her."
Carmen's devoted but hapless lover, Don Jose, played by tenor Peter Lewis, is a complex character. Don Jose is indeed a committed and ardent lover but is also prone to rabid jealousy and violent outbursts. He is also devoted to his mother and to a woman, Micaela, who he left behind in his hometown. Jose is a man of honor but is easily led astray by the luminous and alluring voice of Carmen whom he adores to the point of insanity. Peter Lewis comments: "Don Jose sings with ardor and with pain. The Bizet score provides a vocal platform which is at once eager and sweet, as well as ardent to the point of intense anger and despair. The emotions are many and the mannerisms and the vocal colors are complex and multi-faceted. It is a dream role for the tenor!"
Carmen is an enthralling drama of love and jealousy, packed with well-known tunes and entertaining dances. Carmen is clearly one of the world's most beloved operas. With impressive bursts of color, the exciting production brings the wonders and sounds of Seville to life, from the dusty town center to the thrill of the bullring through the vocal heft of the baritone, Escamillo, the toreador. Bizet's unforgettable score overflows with one pleasure after another, a music lover's display of opera's most intoxicating melodies.
About Eastern Opera of New Jersey:
Eastern Opera Corp. is a nonprofit corporation organized and operated exclusively for charitable purposes. Specifically, Eastern Opera has been formed to encourage and instruct individuals for the purpose of improving and developing their capabilities, to educate the public on subjects useful to the individual and beneficial to the community, and to promote the arts and culture to the local communities. The first opera performance, Puccini's Madama Butterfly (May, 2013) was met with standing ovations. Subsequent performances have included fully staged versions of Verdi's Otello and Strauss' Die Fledermaus, as well as concerts throughout the state of NJ. For more information contact Lou Kersey at loukersey(at)easternopera(dot)org or visit http://www.easternopera.org.
Tickets for "Carmen" are $35 general admission, $25 for students and seniors, and free for children under 12, and may be ordered by calling 908-566-5708 or online at http://www.easternopera.org/tickets. For more information, please visit http://www.easternopera.org.