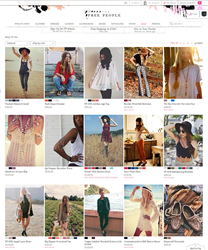 We are excited to be one of the first brands to push into this uncharted area, where customers become the face of the brand.
Philadelphia, PA (PRWEB) February 24, 2014
Today, specialty clothing brand, Free People, will shake things up on its ecommerce channel in celebration of the one year anniversary of FP Me, the brand's online Style Community. For two weeks, Free People's own customers will take over an entire category on the brand's website, replacing lead product images with FP Me Style Pics. The category, titled FP Me Takeover, will be a place where customers can shop directly from a curated selection of the brand's most popular FP Me images and top products that have received the most hearts from the Community. Model images featuring the likes of Karlie Kloss, Sasha Pivovarova, Dree Hemingway, and more, will be swapped out as FP Me girls stand in to allow customers the chance to shop from other customers.
FP Me allows fans to add user-generated content to the ecommerce site by uploading and sharing personal style pics, creating product collections, 'hearting' products, collections, and photos, while connecting with other fashion lovers worldwide.
"We are excited to be one of the first brands to push into this uncharted area, where customers become the face of the brand," says Free People Director of Marketing and Ecommerce, Jed Paulson. "We are so pleased by how our Community has embraced FP Me over the past year, and we look forward to our customer's response to the FP Me Takeover category."
Since its launch in February of 2013, Free People's FP Me Community has seen swift growth with users joining the Community every day. In one year alone FP Me users have:

Uploaded nearly 30,000 pics to the site
Hearted nearly 900,000 products, pics, and collections
Enhancements to the program throughout the year have spurred the growth of the Community even more, such as an FP Me Photostream added to the Free People app in September 2013, and the introduction of the capability for users to upload non-product-related 'inspiration pics' in November 2013. Both breakthroughs enriched the Style Community with a world of inspiration that has fueled engagement and continues to bring Free People fans together.
Those who have shown an affinity for the FP Me platform have not gone unnoticed. The brand has connected with some of the most highly engaged users in fun, unique ways, such as flying fans to the company's home office for a visit, and making them the guests of honor at the brand's FP <3's LA event last August. Free People even spotlights customers' most inspiring FP Me photos by regularly sharing them across the brand's social channels, and casting members of the Community in its BLDG 25 Blog styling shoots.
The FP Me takeover category can be viewed and shopped here. For more information or to request an interview regarding the customer takeover of FreePeople.com, please call the Free People Public Relations Team at 215.454.4979.
###
About Free People
Free People is a specialty clothing brand featuring the latest trends and vintage collections for women who live free through fashion, art, music, and travel. The eclectic look consists of quality apparel, shoes, and accessories that invoke attributes of femininity, spirit, and creativity with its design. Free People is distributed globally via direct channels including the Free People Global site and Free People UK site, as well as specialty boutiques, top department stores, and the brand's free standing retail locations in the U.S. and Canada.