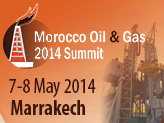 It's an IRN Summit!
London (PRWEB UK) 24 February 2014
Morocco has been identified as one of the most important oil and gas exploration areas of Africa. In recent news, it has been reported that San Leon Energy – represented at the Summit by Director Walid Sinno – has signed a memorandum of understanding with an engineering and technical services firm to develop oil shale from the Timahdit's licence area in Morocco.
Furthermore, two key oil companies speaking at the Summit, Kosmos Energy and Gala Dinner's sponsor, Gulfsands Petroleum, have announced imminent workplans in the country. Kosmos Energy – present at the event in the person of Vice President Ragnar Fredsted – will start drilling its first wells on two world class prospects offshore Morocco in March this year. And Gulfsands' President and CEO Mahdi Sajjad will speak on how the company will start drilling its fourth Moroccan well site in April 2014.
The Morocco Oil & Gas 2014 Summit is the only platform to network with the key players of the Moroccan hydrocarbon industry. The speaker faculty is composed by C-level executives and experts from oil and gas companies actively involved in Morocco, who will describe and discuss up-to-date issues and developments around their activities in the country, from exploration and production to refining and transportation.
Early booking rate expires by February 28th. For registration information and to receive the complete brochure, please contact Lola Bourget at LolaB (at) irn-international (dot) com.
For more information about the inaugural Morocco Oil & Gas 2014 Summit, organised by IRN, see the website: http://www.moroccosummit.com.