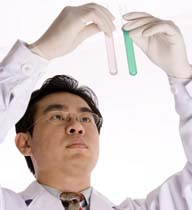 Sensitivity of FNA cytology and lymphoma was upgraded to 100% and decisive diagnosis of... lymphoma was possible.
Raleigh, NC (PRWEB) March 01, 2014
The Non-Hodgkin's Lymphoma Center is reporting on encouraging new research published in a medical journal called Diagnostic Cytopathology. Researchers from Yonsei University College of Medicine compared the diagnostic accuracy of two cell testing techniques and found that, when used together, they make it possible to not only distinguish Non-Hodgkin's Lymphoma from other conditions but also to make a "decisive diagnosis" of several types of Non-Hodgkin's Lymphoma.
The technique called fine-needle aspiration (FNA) cytology or fine needle biopsy is often used to screen for evidence of Non-Hodgkin's Lymphoma. But the technique has its limits, including the fact that it can be hard to distinguish Non-Hodgkin's Lymphoma from a benign condition called reactive hyperplasia using only FNA cytology.
In an effort to improve the diagnostic accuracy of FNA cytology, the Korean research team examined the cytomorphology of the sample cells to identify characteristics present in the Non-Hodgkin's Lymphoma cells but not in the reactive hyperplasia cells. They then further tested the cells using another method called immunocytochemistry. Immunocytochemistry is a laboratory test that uses antibodies that target specific compounds in cancer cells. How the antibodies bind with tested cells can reveal important information about the cells. In the new study, immunocytochemistry was performed using a method called cell transfer.
By itself, FNA cytology with cytomorphology was found to have 80.6% sensitivity (the proportion of correct positive findings) for Non-Hodgkin's Lymphoma and 100% specificity (the proportion of correct negative findings). But when the FNA technique was combined with immunocytochemical testing, the news was even better.
"Using such methods, sensitivity of FNA cytology and lymphoma was upgraded to 100% and decisive diagnoses of diffuse large B-cell lymphoma, Burkitt lymphoma, low grade B-cell lymphoma, T- or NK-cell Non-Hodgkin's Lymphoma (NHL), or Hodgkin lymphoma was possible," the researchers report. The article appears in Diagnostic Cytopathology. (Oh, E, et al, "The diagnostic approach to fine-needle aspiration of malignant lymphoma: Using cytomorphology and immunocytochemistry with cell transfer method", February 18, 2014, Diagnostic Cytopathology, Epub ahead of print, http://onlinelibrary.wiley.com/doi/10.1002/dc.23110/abstract)
The Non-Hodgkin's Lymphoma Center is part of the Cancer Monthly organization. The Non-Hodgkin's Lymphoma Center has been established by Cancer Monthly to provide more comprehensive information on the causes, diagnosis, and treatments for the many different subtypes of Non-Hodgkin's Lymphoma. For over ten years, Cancer Monthly has been the only centralized source of cancer treatment results. Patients can see the actual survival rate, quality-of-life indicators, and other key data for approximately 1,500 different cancer treatments. Cancer Monthly provides timely and ground-breaking news on the causes, diagnoses and treatments of the most common cancers including Bladder, Brain, Breast, Colon, Kidney (Renal), Liver, Lung (NSCLC), Ovarian, Prostate, and Rectal