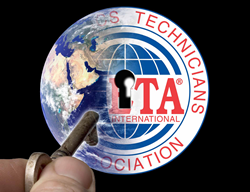 'ETA provides the ESNT certification testing to help upgrade the skills of electronic security technicians and salespeople as IP-enabled devices and systems are becoming everyday installation and programming tasks,' said ETA President Teresa Maher.
Greencastle, IN (PRWEB) February 26, 2014
ETA® International is a not-for-profit trade association certification organization, headquartered in Greencastle, Indiana. ETA administers over 80 different vendor-neutral certification programs for electronics technicians, including the Electronic Security Networking Technician (ESNT) program that tests individuals in the growing field of IP networking for alarm systems, access control, and networked CCTV.
Even in a small town like Greencastle, electronic security systems are needed to protect homes and businesses. After a couple of unusual events, ETA Board of Directors member Dave Engebretson of Slayton Solutions Ltd., contacted Honeywell to see what they could do to help ETA protect their property.
Dave Engebretson, ESNT, of Slayton Solutions, provided four Honeywell Total Connect IP cameras (two outdoor and two indoor) along with a WAP-PLUS Wi-Fi access point and an Alarmnet/Total Connect cloud video recording services at no cost to ETA. Engebretson programmed the cameras and WAP-PLUS in Chicago then shipped the programmed system to ETA.
Personnel at ETA connected the Wi-Fi access point, installed the cameras, and the system was up and functional. Select personnel at the ETA can view the cameras from their smart devices and remote PCs.
Honeywell Total Connect Remote Services cameras are very easy to set up, said Engebretson. "Using the WAP-PLUS with the built-in Wi-Fi, I was able to program and establish Total Connect video recording for four cameras in less than a half an hour," he said. "Just power them up, press the buttons on the cameras, and the WAP-PLUS and the cameras are up and running. Thanks go to Dean Mason and Dominic Dutton of Honeywell for their support and technical assistance."
Bryan Allen, ETA office manager, stated that the Wi-Fi cameras function very well, both indoors and out. "On Dave's recommendation, we tested the Wi-Fi channels that are in use in and around our building, and made a change in our business Wi-Fi system so that there would not be RF network congestion created by the addition of the cameras," he said.
"As a not-for-profit industry association, we greatly appreciate Dave Engebretson's assistance in setting up the devices," said Teresa Maher, ETA President. "I feel much better about the security of our building and our personnel knowing that we have recorded video surveillance on the inside and outside of our headquarters," Maher also noted, "ETA provides the ESNT certification testing to help upgrade the skills of electronic security technicians and salespeople as IP-enabled devices and systems are becoming everyday installation and programming tasks."
ETA® International - Founded in 1978, Electronics Technicians Association International is a not-for-profit, professional association promoting excellence in electronics technologies through certifications. The association's initiatives are to provide a prominent certification program of competency criteria and testing benchmarks that steer international electronic standards and renowned professional electronics credentials. Today, ETA has issued over 125,000 technical certifications covering more than 80 certification programs in a variety of electronics fields. The association consists of over 5,000 members, 625 Subject Matter Experts (SMEs) serving on various Industry Advisory Committees and 1,000+ Certification Administrators (CAs). http://www.eta-i.org
Download this press release at – http://www.eta-i.org/pr/SLAYTON%20SOLUTIONS%20PROVIDES%20HONEYWELL%20VIDEO%20MONITORING%20SYSTEM%20FOR%20ETA%C2%AE%20INTERNATIONAL.pdf