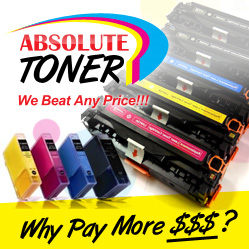 Absolute Toner uses only high quality dedicated toners
Toronto, Ontario (PRWEB) February 25, 2014
Absolute Toner, the number one trusted store for laser toner cartridges, has introduced compatible toner cartridges for Brother TN-221 black, Brother TN-225 cyan, Brother TN-225 magenta, and Brother TN-225 yellow toner cartridges. These cartridges are a great buy as they are designed to work well with the new Brother color laser printers such as Brother HL-3140CW & HL-3170CDW, Brother MFC-9130CW, MFC-9330CDW & MFC-9340CDW. Absolute Toner has been known to manufacture replacement cartridges that are a perfect fit for many major brands and this latest addition proves to be one of the best.
Not only do they offer great quality, but they also give the buyer great value for money. They are offered at competitive rates with no compromise on quality so that the buyer gets up to 90% savings. Singles and combo set can be bought as per the customer's requirements with Absolute Toner offering only the best deals. More can be got for less as the customer as their cartridges yield 2,500 pages for black and 2,200 pages for color on 5% page coverage thereby offering extreme functionality. The company has made sure that the customer gets only the best at the most affordable rates.
Absolute Toner uses only high quality dedicated toners so that there will be no ink smear such as is possible with universal toners. They are built to match the quality of any leading brand and performance is guaranteed. The cartridges give professional quality output with every print as the cartridges are tested before shipment. This is an important step which the company takes very seriously and so has made quality control a priority.
The cartridges are offered with a lifetime warranty and do not damage the printers as most other compatible cartridges have been known to do. Absolute Toner also guarantees that the customers will even find that there is hardly any difference in the quality and in fact, the quality is so refined to excel even the originals. Therefore, replacement cartridges are made with superior technology so as to protect the printer and give a long durable service for the customer.
It will come as no surprise that customer satisfaction is guaranteed 100% and the company expects the sales to shoot up with this new range. Interested customers are welcome to check out the new range from the company's website to http://www.absolutetoner.com/brother-toner-cartridges/1282-brother-tn221-tn225-toner-cartridges-combo-compatible.html. The company has gone to extreme efforts to improve the online operations so that the customer will get the ordered products as soon as possible. Moreover, there are options to track the order and there is good customer support where queries are answered as soon as they arise.
About Absolute Toner:
Absolute Toner has more to offer customers in terms of products, quality and services. The online store is well stocked to answer every need for all major brands as the company has been in this business for many years and knows the customers' needs even better than the customers themselves. Huge discounts, top quality and variety, is what gives Absolute Toner the advantageous edge over its competitors. View their website here http://www.absolutetoner.com.