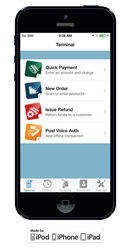 Glendale, California (PRWEB) February 26, 2014
Industry leading payment gateway USAePay recently released update version 1.3.3 of their secure mobile payment application available for free on the iTunes App Store. The new, improved mobile payment application by USAePay makes accepting credit cards through your iPhone or iPad simple and secure.
USAePay routinely delivers application updates to advance and improve security, usability and the overall experience for users. The latest update offers improved barcode recognition from 36 to 43 characters on PaySaber devices and an updated analytics library to measure key metrics.
The USAePay mobile payment application for Apple devices provides a quick and easy interface for accepting credit card payments. Application features include a cash register interface, inventory management tools, tax calculation and accepting cash payments as well as transaction history and analytical tools.
Learn more about version 1.3.3 of the USAePay mobile payment application for iOS devices and download it for free on the iTunes App Store today.
About USAePay: USAePay is a family-owned business based in Los Angeles, CA. For over 15 years, the company has been assisting merchants with payment solutions to fit their needs. USAePay's payment gateway supports most of the major platforms in the credit card industry and works with some of the leading check platforms. USAePay is pleased to work with most of the larger merchant service banks in the US and Canada. For more information, please visit http://www.usaepay.com or call 866.USA.EPAY (872-3729).