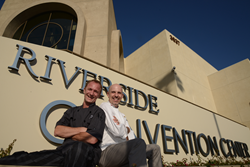 Riverside, CA (PRWEB) February 24, 2014
Following an extensive, two-year renovation and expansion, the Riverside Convention Center will reopen with brand new healthy menu options developed in consultation with Loma Linda University Health (LLUH).
Officials of LLUH and Raincross Hospitality Corporation, the managers of the convention center, have entered into an agreement in which LLUH develops menu items with a focus on seasonal specialties and healthful ingredients, consistent with LLUH standards of excellence and nutrition. The specialized menu will compliment an exciting menu created by the center's new Executive Chef, Brad Martin.
LLUH nutritional experts will also work closely with the convention center's culinary staff to supervise their knowledge and techniques for proper preparation of vegan and vegetarian meals recommended for inclusion on the specialized menu.
"We're privileged to share our experience with vegetarian cuisine and our message of healthy living to the 250,000 guests of Riverside Convention Center each year," said LLUH Chief Wholeness Officer Daniel Fontoura.
Apart from developing the menu and staff training, LLUH will be involved in other aspects of food service at the convention center, including conducting a nutritional assessment of all food items on the menu, and having LLU students in nutrition and dietetics programs take part in internship opportunities to meet the requirements of their practicum to complete their advanced degrees.
"We are enormously pleased to have this unique opportunity to cooperate with such a well-respected organization as Loma Linda University Health to promote important principles of nutrition, while providing our valued guests with the best opportunities for healthful eating," said Ted Weggeland, president of Raincross Hospitality Corporation.
"The Riverside Convention Center is committed to representing the promise of healthy living in a socially responsible community," he said.
Loma Linda University Health is known widely for its pioneering work on nutrition and its impact on health. The Loma Linda University School of Public Health is home to the famed Adventist Health Studies, a long-running, ongoing study funded by the National Institutes of Health, which looks at how nutrition is linked to health and longevity; and a number of other nutrition-related studies.
Riverside Convention Center, located in downtown Riverside, is one of the leading convention and events centers in the Inland Empire. It recently completed a $43-million renovation and expansion, and will re-open on March 1.
Photo Caption: Brad Martin (left), executive chef, Riverside Convention Center, and Cory Gheen, chef instructor, Loma Linda University School of Allied Health Professions, will work together under a cooperative agreement for LLUH to develop menu options for patrons of the convention center.
###
About Loma Linda University Health (LLUH)
Loma Linda University Health includes Loma Linda University's eight professional schools, Loma Linda University Medical Center's six hospitals and more than 800 faculty physicians located in the Inland Empire of Southern California. Established in 1905, LLUH is a global leader in education, research and clinical care. It offers over 100 academic programs and provides quality health care to 40,000 inpatients and 1.5 million outpatients each year. A Seventh-day Adventist organization, LLUH is a faith-based health system with a mission "to continue the teaching and healing ministry of Jesus Christ."