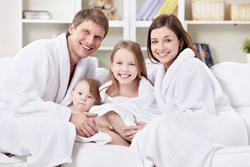 "There's no need to suffer while doing your part saving water" - Alan, Seattle
Seattle, Washington (PRWEB) February 25, 2014
Western states such as California are facing extreme drought conditions this year, costing millions of dollars in farming losses and increasing prices for everyone. Washington Energy Services' plumbing division is often asked for the best ways to make an impact in saving water, and here they are:
1. Have a home plumbing inspection. Have a licensed plumber assess the state of your plumbing and fix any leaks. Pipes can leak for years undetected in walls. It is not only wasteful but can bring mold and mildew into your house.
2. Replace your toilets with WaterSense low flow toilets. Going from a 4.5 gallon to a 1.6 gallon toilet saves 2.9 gallons per flush. That adds up fast, not only in saving water for the planet for reducing your water bill. Let's say your toilet gets flushed 10 times per day; that's 29 gallons saved - per day. That's a small bathtub full! There are rebates in some areas for switching to WaterSense products, either toilets, shower heads or taps.
3. Fill your dishwasher. Dishwashers use the same amount of water whether they are full or have 3 items in them. Unless you need the heavy duty wash, look for "smart" settings on your dishwasher vs "heavy duty". These will use less water.
4. Check the setting before washing clothes. Your washing machine has size of wash features, such as small load, medium load and large load. Make sure you check to set it on small when you have a small load. And make sure your children know about this if they are doing their own laundry. Overall you will save more energy and money if you use these appliances when they are full.
5. Garden conservation options. There are many options to improve water use outdoors. Some that make the most water impact are:

choose to plant native species that need less watering and are better suited to the climate.
use a rain barrel to store water for the garden,
water your garden/lawn at night so less evaporates
put your watering on a timer. People often put out a sprinkler or hose and forget it for hours.
Washington Energy Services believes that you can still take long showers, nice full baths and wash your car while saving water and being eco-responsible. These simple water saving improvements can make a real impact in our environment, save on water bills and don't negatively impact your comfort.
Washington Energy Services has been providing tailored energy saving and home comfort solutions to Puget Sound homeowners since 1957, including WaterSense toilet replacement, now $50 off with coupon. Reach them at http://www.washingtonenergy.com.