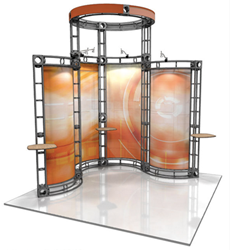 Often times customers are not aware of just how customizable these units really are, so hopefully this gallery will serve as a catalyst for even more creative ideas.-APG President Matt Baron
Grayslake, Illinois (PRWEB) February 27, 2014
APG Exhibits, a premier online provider of trade show displays and exhibits, has recently unveiled an exclusive image gallery of ideas and design concepts using the ever-popular Orbital Truss style of trade show truss displays. This gallery, easily accessible from the companies main navigation menu, has been assembled to assist and provide ideas to those exhibitors interested in utilizing Orbital Truss to craft their custom trade show booth.
The images are neatly organized into standard booth sizes and types for easy browsing, such as "peninsula" and "island" booths in popular sizes of 10' x 10', 10' x 20', and 20' x 20'. Each image, when expanded, provides a larger view of the design, along with additional information about graphic types, available accessories, and more.
APG President Matt Baron said of the gallery, "Given the volume of requests that we get from clients wanting to customize the Orbital Truss systems, we thought it a good idea to assemble all the great concepts we've seen using this system and put them into one place for easy browsing. Often times customers are not aware of just how customizable these units really are, so hopefully this gallery will serve as a catalyst for even more creative ideas."
The Orbital Truss line of trade show displays has for years been one of the most popular ways of upgrading a companies trade show booth due to its modular nature and striking looks. The "off-the-shelf" truss pieces can be configured in an infinite number of ways to create almost any structure imaginable.
APG Exhibits has had extensive experience with these truss displays and is able to provide consultation at each step in the production process. Baron continued, "While many of our customers are OK with the standard configurations that we offer for sale on our website, some clients want the ability to produce a booth that fits their companies precise needs, and this gallery is all about helping those clients."
For more information about APG Exhibits or their exclusive Orbital Trade Show Truss Display gallery, please contact APG Exhibits at 866-752-2192, or use the email link provided.
...
APG Exhibits is a premier online provider of trade show displays, outdoor exhibits, custom booths, promotional giveaways, custom banners, trade show flooring and more. APG Exhibits' mission is to provide high-quality trade show display products and outstanding customer service at the guaranteed lowest prices. Contact Customer Support at 866-752-2192 or visit apgexhibits.com for more information.