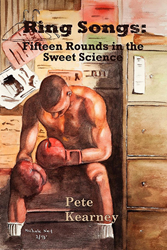 Pete Kearney's tightfisted prose and marvelous similes make the Sweet Science remarkably accessible and... deeply humane. Highly recommended for both the hardened fan and the nostalgically curious.
Staten Island, New York (PRWEB) February 28, 2014
Ring Songs is a fight card of short stories where every round centers on a boxer answering the bell, the moment when hot blood rushes to the brain and he takes the first steps into the primal arena of his own self-defense. Step into the ring and experience the stories that show the humanity that lies within the boxer's beating heart. Peter Kearney is former Golden Gloves boxer and a life long fan. He resides in Staten Island, New York.
For author interviews or events please call Boulevard Books (917) 825-0390 or email at agvili(at)boulevardbooks(dot)org.