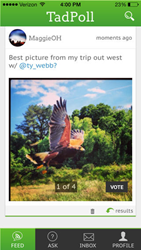 With the launch of TadPoll, anyone can quickly crowd-source answers to life's questions.
(PRWEB) February 24, 2014
A new mobile app allows users to create and distribute poll questions to friends. The iPhone app, called TadPoll, is available now for free on the iTunes App Store.
Polls can take several forms. The basic "Yes/No" poll pre-populates the two possible answers. The "Custom" poll can include between two and four answers of up to 30 characters each. The "Photos" poll may include between two and four photos that respondents can mark as favorites. Finally, the "1-10" poll presents a slider for respondents to react to a question.
Questions themselves can be up to 140 characters. Each poll can also be timed, so that it expires at a certain date and time, or sent only to a limited group of friends that the user selects. The Inbox feature shows a list of private messages and notifications highlighted for special attention. More votes lead to better answers.
TadPoll can import existing friends from Facebook and the iPhone's contacts. Polls can also be shared via Facebook, Twitter, and text message.
The creators of TadPoll noticed a void in the way people communicate on their mobile devices and conceived a better way to get answers quickly. "We found ourselves confined by existing messaging platforms. Providing a dedicated medium with templates for guiding the conversation was our answer and TadPoll was born," said David O'Kane. With the launch of TadPoll, anyone can quickly crowd-source answers to life's questions.
TadPoll was developed for Concord Mobile LLC by Zco Corporation, one of the largest app developers in the world.
About Concord Mobile LLC
Concord Mobile is a technology company based in New York. Since its founding in 2012, the company has been focused on bringing innovative products and services to consumers around the world. Its mission is to deliver robust applications with both practical functionality and outstanding entertainment value. To learn more, visit http://www.tadpollit.com/.
About Zco Corporation
Zco Corporation is one of the largest custom app developers in the world. Founded in 1989 and headquartered in Nashua, New Hampshire, Zco has served Fortune 20 companies to small businesses for over 20 years. Its services include mobile and enterprise app development, 3D animation and games, augmented reality, and custom software. In addition to Zco's work for hire, it has an iOS and Android-based public safety product, PublicEye®. To learn more, visit http://www.zco.com/.