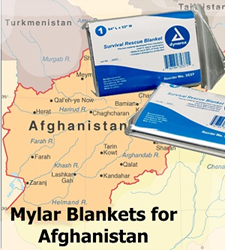 Issaquah, WA (PRWEB) February 27, 2014
Aschiana USA, a support arm to Aschiana Afghanistan, an Afghan non-governmental organization that has provided services to people in Afghanistan since 1995, recently chose QuickMedical as their supplier of emergency mylar blankets to displaced person camps outside Kabul. The Aschiana USA board chose QuickMedical over other suppliers because of QuickMedical's well-known commitment to American service veterans and its service veteran-owned small business status.
One year ago, Aschiana USA began the mylar blanket program on the suggestion of Dr. Craig Garfield of Northwestern University Medical Center. The first deployment of the emergency blankets was very favorably received by doctors and patients in Afghanistan.
The new supply of emergency mylar blankets from QuickMedical was recently delivered by Dr. Mark Scoffield of American Medical Overseas Relief and is expected to help continue to lower respiratory infection rates and child and infant mortality.
Aschiana USA is extremely supportive of American service veterans, so the choice to purchase from QuickMedical was very clear, due to QuickMedical's veteran owned status and ongoing support of veterans groups.
About Aschiana: Aschiana is an Afghan nongovernmental organization that has provided services, support and programs to working street children and their families since 1995. Aschiana currently serves 4,500 students in Afghanistan through centers in Kabul, Mazar-i-Sharif, Herat and Parwan. It operates four centers in Kabul: two centers for basic education, one center for accelerated girls' education and one emergency shelter for runaway children. Aschiana provides basic education for internally displaced persons and returned refugees through five outreach areas in Kabul.
About American Medical Overseas Relief: American Medical Overseas Relief exists to provide health care to those who cannot provide for themselves. AMOR is dedicated to improving the health of people in impoverished areas; focusing on maternal and newborn care, children's health, trauma and urgent care, and health and hygiene education. AMOR is committed to providing quality health care that will not only meet the immediate needs of the population in a specific area, but also introducing new standards of care in each country it serves.
About QuickMedical: For over 20 years QuickMedical has been a leader in the distribution and sale of medical supplies and equipment. In 2013 QuickMedical was named one of Washington's fastest growing businesses by the Puget Sound Business Journal. With great pricing, same day shipping and a best price guarantee, QuickMedical provides the professional medical equipment used by medical and health care professionals in their facilities everyday.