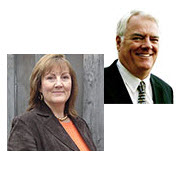 Eugene, OR (PRWEB) February 24, 2014
Kathleen Gage of Power Up for Profits! is proud to announce the launch of The Nelson Technique Website. The site is owned by Dr. Bruce and Lana Nelson, internationally recognized distance healers.
The Nelsons have been helping people with Fibromyalgia Pain and Chronic Fatigue Syndrome since before the words became household names.
Dr. Nelson has been helping people with Fibromyalgia and Chronic Fatigue Syndrome, the "invisible illnesses," before many doctors began believing their patients that these conditions existed. Still, today these conditions can be hidden below the clinical surface and are not easily detected.
Lana Nelson was first introduced to Dr. Nelson's "gift" in 1993 on a blind date. Lana was dealing with Fibromyalgia, but in a short time was healed by Dr. Nelson's methods after suffering with 10 long years of constant headaches and severe Fibromyalgia pain.
The date was one of those strange and unusual meetings like déjà vu because they felt like they already knew each other and later that year were married. Their blended families resulted in 12 children between the two of them.
Realizing a gift for healing, Lana and Dr. Bruce joined forces to heal as many patients as possible.
They now work exclusively via Distance Energy Balancing. This allows them to help anyone anywhere in the world.
Dr. Nelson's unique method TNT - The Nelson Technique can be performed at a distance over the telephone by finding the cause of the problems and using TNT to balance one's energy. This allows them to reach people anywhere in the world to easily and quickly give them the help they need without the time and inconvenience of having to travel.
Dr. Nelson has been practicing Energy Medicine since 1987. He is a Holistic Chiropractic Physician. He is a graduate of Life Chiropractic College West in San Lorenzo California.
He has appeared on international television and radio talk shows and has been a featured speaker at National Fibromyalgia and National Health Federation Conventions. He has treated professional athletes and movie stars and authored articles on Fibromyalgia and Chronic Fatigue Syndrome in National Magazines.
Dr. Nelson has lectured and taught his own healing techniques internationally for over two decades to laypeople as well as doctors who use his system TNT - The Nelson Technique in their own practices.
To learn more about Dr. Bruce and Lana Nelson, visit their website at http://drbruceandlana.com/.
About Kathleen Gage:
Kathleen Gage is the "no-nonsense, common sense" online marketing strategist, speaker, author, product creation specialist, and owner of "Power Up for Profits." Kathleen helps entrepreneurs make money online. Her clients are driven by making a difference through their own unique voice.