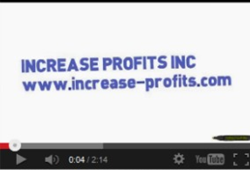 Gordon and Levi really came through for me when I needed it. Their 5 step process made it so easy to build my site. They did everything I could have asked them too and now I will be turning to them for marketing solutions as well! Thanks guys!
Grapevine, TX (PRWEB) February 25, 2014
It is common knowledge that hiring an Ecommerce Website Design company can be a hassle. The different platforms and price points alone can keep an unsuspecting business owner shopping for days.
So a business owner hired a company they found online, right? Now it seems like the entire process is like pulling teeth. They ask for money, and then there are extra fees. Not to mention all the jargon they throw around to sound smart. The horror stories are endless. It can be a huge hassle to get even the simplest ECommerce Website Design project completed.
Increase Profits Inc has developed an "Easy 5 Step Process" to help entrepreneurs get products online. It's designed to make the ECommerce Website Design venture an easy and seamless transition. Business owners have been fighting with website designers for years. Increase Profits Inc has addressed these difficulties and created a solution.
To learn more please click here to watch their free Video.
Consultation: Gathering of specific business needs and goals is the first order of business. Website design ideas, color schemes, and explanation of every single cost throughout the entire process is the foundation.
Design: Development and layout of the site begins. Business banners, graphics and content are added. This will provide a demonstration of what it could look like. They do not move on from this step until you are 100% satisfied with the work.
Review: In this step products and content are added to your ECommerce Website Design. This is done to your specifications, then reviewed line by line by a team of professionals.
Publish: the new ECommerce Website is moved to the client's domain and the shopping cart is activated and ready for business. If the client does not have a hosting or domain provider, they are able to take care of that as well.
Support: A ton of companies either don't offer a support package, or charge out the roof for it. Increase Profits Inc offers an annual site maintenance and support package that covers everything. Most companies fall off the face of the earth after completion of the site. That's not the case at Increase Profits Inc. They understand that a business owner will require help with new products, advertising banners, content adjustments This isn't overlooked, but addressed, and taken care of.
This "Easy 5 Step Process" is designed to Get Your Business Online Today! It has helped many business owners showcase their products online.