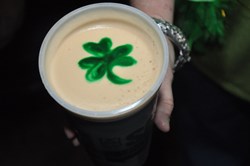 Philadelphia, PA (PRWEB) February 21, 2014
Starting March 1, the social order in Philadelphia shifts towards a singular purpose: celebrating all things Irish. This means wearing green, eating traditional Irish food, connecting with community through charity, and, of course, drinking Guinness and fantastic Irish whiskey. After 12 years of throwing the biggest Paddy's Day event in Philadelphia, Fado Irish Pub in Center City continues its tradition of delivering revelers Philly's definitive 2014 Paddy's Day celebration.
Every aspect of the St. Patrick's Day festivities, which last all month-long, are focused on providing an over-the-top yet authentic Irish experience. European sports, including 6 Nations Rugby, English Premier League, special whiskey dinner, live music, Pub Quiz and more. Party goers can also look forward to special themed events like the Tour of Ireland Whiskey Tasting and Dinner, Super Pub Quiz, 6 Nations Rugby and more. "Party like a Paddy" never sounded more right.
Fadó, the best St Patrick's Day party in the Philadelphia, is a St Patrick's Day Institution and the staff and management at the pub invite you to "Commit yourself" to a day of unequaled partying.
Here's what to expect during Philadelphia's most anticipated St. Paddy's celebration at Fadó in Center City:
Leary Foundation Charity Event, Thursday, March 6, from 5 p.m. to 8 p.m. - Pint Pouring Competition between local firehouses.
St Practice Day, Saturday, March 8 - Doors open early at 7.30 a.m. for 6 Nations Rugby and English Premier League. The outside party in the heated tent starts at 2 p.m. with live music from Modern Bliss, Laura Lea, 52 Pick Up, and Oliver McElhone until 8 p.m. DJ Press Play playing new and old favorites inside all night. $10 cover on the door starts at 2 p.m. 21+ after 2 p.m.
Irish Whiskey Dinner, Tuesday, March 11 at 7 p.m. - Irish whiskies and food pairing hosted by Tullamore Dew Ambassador, Kevin Pigott. Details and advance tickets available now. Limited Seating.
Special Paddy's Day Pub Quiz, Wednesday, March 12 at 8 p.m. - Big prizes, food and drink specials, giveaways. Free to play and new teams always welcome.
Live Music Session, Thursday, March 13 at 4 p.m. - Live Music featuring Generation Next, Laura Lee and 52-Pick Up until close.
Super Sports Saturday, March 15 - Doors open at 6.30 a.m. for European sports, English Premier League and 6 Nations Rugby. Philly Union Home Opener at 4 p.m. at PPL Park. Bus trip details and tickets available now.
Club Shebeen late night starts at 9 p.m. with drink specials and dancing until close.
"Parade Day," Sunday, March 16 - Doors open early with European sports, featuring Liverpool v Manchester United at 9.30 a.m. and Arsenal v Tottenham
St Baldrick's Charity Event from 2 p.m. to 9 p.m. - 5th annual head-shaving event where the community raises money and awareness to help fight children's cancer. $35,000 goal this year with over 24 shavees already registered! Fun Fact: "craic" is an Irish term meaning good times" So we like to say that this event is "great craic for a great cause." Irish dancers to perform throughout the day. Go here to learn more or to donate.
St Patrick's Day, Monday, March 17 - Doors open at 7 a.m. for "Pints and Pancakes." Free until 9 a.m. $5 cover from 9 a.m. to 11 a.m. $10 cover starts at 11 a.m. with live music from Generation Next, 52-Pick Up, Side Arm Duo and Gypsy Wisdom outside. DJ Press Play playing "cracking" pub tunes inside until close. 21+ only.
About Fadó Irish Pub
Fadó (pronounced fuh-doe) Irish Pub was the first Irish pub to be designed and constructed in Ireland and shipped and installed in Philadelphia. Fadó is distinguished by its genuine Irish hospitality, quality of its pints and craic (pronounced 'crack', a uniquely Irish form of fun). Fadó has been voted 'Best Of' by a number of local and national publications. Fadó is an official US Soccer bar and an official supporters bar for the Philly Union MLS team. Get more information by visiting the pub's website, Facebook page or by following Fadó on Twitter and following the #stpatricksday2014.